Catalogue of Artworks
presented by NCAC's Arts Advocacy Program
2017 Celebration of Free Speech & Its Defenders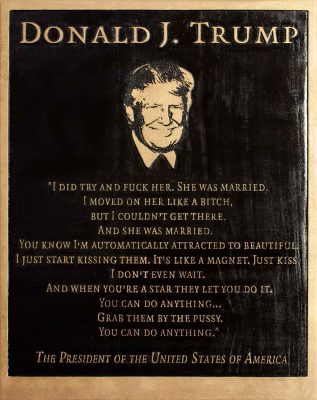 ARTIST: Marilyn Minter
LOT 1: Trump Plaque, 2017. Painted Hydrocal. 11 x 14 x ¾ inches; Edition: 30 of 100
FAIR MARKET VALUE: $1,000. Bidding starts at $500.
DESCRIPTION: Marilyn Minter's paintings, photographs, and videos vividly explore complex and contradictory emotions around beauty and the feminine body in American culture. On March 8th, for International Women's Day, Halt Action Group commissioned Marilyn to create a poster for a city-wide guerrilla art action. The poster depicts Trump's face above a list of remarks gleaned from his infamous hot mic recording (aka his "sexual assault monologue"). Thousands of the posters were wheat-pasted on the streets of New York City overnight. Marilyn has since re-created the poster as a plaque in an edition of 100 to raise funds for Planned Parenthood, the ACLU, and NCAC. Marilyn has been the subject of numerous solo exhibitions at museums at home and abroad, including the San Francisco Museum of Modern Art, Center for Contemporary Art, Cincinnati, and the Deichtorhallen in Hamburg, Germany. Her video, Green Pink Caviar, was screened at MoMA and on digital billboards in Times Square and on Sunset Boulevard, LA, and her traveling retrospective, Pretty/Dirty, was recently on view at the Brooklyn Museum of Art.
ARTIST: Dread Scott
LOT 2: Never Again (sketch 2), 2017. Pigment print. 17×10.25 inches (18 x 12 inches framed). Edition: 1 of 5
FAIR MARKET VALUE: $750. Bidding starts at $375.
DESCRIPTION: Dread Scott re-purposes American iconography to create artworks as indictments of racism. While still a student at the Art Institute of Chicago, his installation, What Is the Proper Way to Display a U.S. Flag, invited viewers to walk on the flag, sparking a controversy that prompted Congress to pass the Flag Protection Act of 1989; (in 1990 the Supreme Court upheld rulings that the Flag Protection Act of 1989 is unconstitutional). Dread's work has been exhibited widely in public spaces, galleries, and museums, including MoMA PS1, the Walker Art Center, the Brooklyn Museum of Art, the Pori Art Museum in Finland, and the Whitney Museum, NY. NCAC successfully intervened on Dread's behalf when his Black Lives Matter billboard was censored by a corporate advertising firm in Kansas City. Dread plays with fire, sometimes literally, as in his performance where he burned several hundred US dollars on Wall Street, encouraging passersby with 'money to burn' to add their cash to the pyre. Never Again is a sketch for a new piece that will premiere on the streets of New York later this fall.
ARTIST: Bob Staake
LOT 16: Sisyphus, 2017. Giclée print, pencil signed. 6 x 7.5 inches. Open edition.
FAIR MARKET VALUE: $300. Bidding starts at $200.
DESCRIPTION: Bob Staake is one of the nation's most successful illustrators. He has been a cover artist for The New Yorker and has created illustrations for TIME, Vanity Fair, The Washington Post, The Chicago Tribune, Cartoon Network, The Wall Street Journal, Forbes, Simon and Schuster, The Ren and Stimpy Show, MAD, Children's Television Workshop, The Walt Disney Company, Doubleday, Klutz Press, Miami Herald, Los Angeles Times, The New York Times, and countless others. Bob's November 17, 2008 cover of The New Yorker entitled Reflection commemorating Barack Obama's election as the nation's first African American president was named by TIME as #1 in their list of 10 Top Magazine Covers of 2008, dubbing the image "beautifully rendered" and "simply spectacular." According to The New Yorker, it is their most popular cover of all time.
ARTIST: Savannah Spirit
LOT 4: Laurel Canyon, 2017. Archival pigmented inkjet print. Images 9 x 9 inches framed. Edition: 1 of 3.
FAIR MARKET VALUE: $500. Bidding starts at $250.
DESCRIPTION: Savannah Spirit uses social media to create and distribute her nude and atmospheric self-portraits. Her work addresses body-positivity, the female/male gaze, censorship and women's rights. Laurel Canyon is typical of her sun-drenched, pin-up self-portraits, a nod to her precursor, the pioneering 'rebel camera girl' Suze Randall, who employed a dreamy, Vaseline-on-the-lens look in her self-portraits published in Playboy in 1976. Savannah's work is included in numerous private collections and has been published in D/Railed, W Magazine, The Nation, The Abolitionist, THE magazine and City Journal. Her recent solo show, Nevertheless, She Persisted at Mulherin New York, presented her uncensored nude self-portraits out of the confines of social media where they have been repeatedly flagged and removed as 'obscene' or 'inappropriate.'
ARTIST: Robert Sherer
LOT 5: Nuptial Not, 2002. HIV-negative blood on paper. 33 × 25 inches (framed)
FAIR MARKET VALUE: $2,500. Bidding starts at $650.
DESCRIPTION: Robert Sherer is an internationally exhibiting artist and activist whose work explores race, gender and sexual identity. He is best known for his use of unconventional media. Nuptial Not, which depicts two intertwined, love-lorn flowers, is part of Robert's series of botanical illustrations that express the complexities of romantic life and sexual attraction in the age of AIDS. In 2001 and 2007, Robert represented the United States in the Florence Biennale, where he was awarded a Lorenzo de Medici medal for his 'American Pyrography' series. Last year, NCAC defended one of his drawings in the exhibition, Art AIDS America at the Zuckerman Museum of Art at Kennesaw State University, where it drew the ire of Georgia lawmakers who threatened to de-fund the museum.
ARTIST: Brian Wiggins
LOT 6: M.I.R.V, 2017. Acrylic on canvas. 30 x 30 inches
FAIR MARKET VALUE: $1,200. Bidding starts at $600.
DESCRIPTION:  Brian Wiggins was born in Northwest Arkansas and received a BFA in Painting and Printmaking from Memphis College of Art. He has lived with his family in North East Pennsylvania since 2006 where he teaches at a small liberal arts college. Brian's paintings utilize visual form (primarily color), camouflage and obscured meanings in an attempt to expose hypocrisy in mass culture. M.I.R.V references an arcade video game Brian played as a teenager called 'Red Alert' where he defended France, the USA, and England from virtual atomic bombs. NCAC recently assisted Brian when his small gouache titled FUCK TRUMP, a colorful grid in the artist's signature style, was quarantined from an exhibition at the Allentown Museum after board members pressured the museum to remove it.
ARTIST: Mark Harris
LOT 7: Silence = Violence (No. 1), 2016.  Mixed media collage on panel. 20 x 16 inches
FAIR MARKET VALUE: $750. Bidding starts at $375.
DESCRIPTION:  San Francisco-based artist Mark Harris combines his passion for social justice, activism and art in a unique visual vocabulary that engages some of the most critical issues of our time. His thought-provoking paintings and collages tackle a number of urgent issues, including police brutality and the history of slavery and racism. Mark has exhibited widely, including at the USF Thacher Gallery, 111 Minna Gallery and The Whitney Young Cultural Center (San Francisco); Rock, Paper, Scissors Collective, Oakland; the Triton Museum of Art, Santa Clara; and the Marin Museum of Contemporary Art, Novato. Earlier this year, NCAC and the ACLU, intervened on Mark's behalf when an exhibition of his works celebrating Black History Month was removed from display in a San Jose School building.
ARTIST/AUTHOR: Shelley Marlow
LOT 8: Two Augusts In A Row In A Row, Publication Studio Hudson/Jank Editions. Artist Edition: 2017. Softcover; 421 pages; 23 illustrations in color and B&W. Signed.
FAIR MARKET VALUE: $200. Bidding starts at $100.
DESCRIPTION: Shelley Marlow is an artist and writer living in Brooklyn. In September, the Artist Edition of her 2015 debut novel appeared, and includes 23 reproductions of her drawings in color and B&W. (For her drawing, see LOT 9). The novel, Two Augusts In A Row In A Row, is a love letter between generations of queer women set in New York City in 2001. We follow Phillip – a gender subversive drag king in search of grace and magic – through rich, sad, humorous language that is singularly Shelley Marlow's. This is the seventh book in Publication Studio's distinctively designed 'Fellow Travelers' series that references the famous Olympia Press Traveler's Companion series of the late '50s and '60s that released novels of literary merit, too hot for any contemporary press to handle. This is how Lolita, Naked Lunch, Our Lady of the Flowers, The Story of O, and many other controversial works came into the world. Listen to Shelley read from her novel at the Vermont Studio Center, where she was writer/artist-in-residence last year.
ARTIST/AUTHOR: Shelley Marlow
LOT 9: Optic Nerve, 2017. India ink on paper. 8 ½ ×11 inches (12 x 16 framed)
FAIR MARKET VALUE: $250. Bidding starts at $125.
DESCRIPTION:  Shelley Marlow's Optic Nerve is an original drawing from one of the drawings series reproduced in the Artist Edition of her debut novel, Two Augusts In A Row In A Row (Publication Studio Hudson/Jank Editions: 2017). The Artist Edition (LOT 8) contains 23 color and B&W reproductions of her work.
ARTIST: Joy Garnett
LOT 10: Brought to a Hospital; Attacked a Funeral, 2006. Colored inks on paper.  9 x 12 inches (12 ½ × 15 ½ inches framed)
FAIR MARKET VALUE: $750. Bidding starts at $375.
DESCRIPTION: Joy Garnett's paintings and drawings are loosely based on images pulled from mass media outlets. She employs a range of methods, including seriality and the gesture, to explore the problem of the 'found object' while transforming a media image through painting. Brought to a Hospital; Attacked a Funeral is from the series Today's News (2006-07), colorful ink drawings drawn from news photographs in local tabloids. Joy's work has been shown at the Milwaukee Art Museum, MoMA-PS1, the Whitney Museum, Boston University Art Gallery, and most recently the FLAG Art Foundation, NY, and has been written about in The New Yorker, The New York Times, Art in America, ARTnews, The Brooklyn Rail, Artnet, Artforum, and elsewhere. Joy has received grants from Anonymous Was a Woman, Lower Manhattan Cultural Council and The Chipstone Foundation (Milwaukee).

ARTIST: Mira Schor
LOT 11: Sketchbook Trace: Terror, 2016. Ink and gesso on tracing paper. 14 × 18 inches. (16 x 20 inches framed)
FAIR MARKET VALUE: $1,000. Bidding starts at $450.
DESCRIPTION: New York artist Mira Schor's drawn and painted apparitions of female figures reveal contradictory truths. Sketchbook Trace: Terror is a drawing that reenacts Munch's scream in the Trump era. In Artforum, critic Andy Campbell writes that Mira's skeletal power figures endlessly do battle with internal and external invalidations: "Painted on tracing paper as thin as onion skin, they are works of uncompromising strength and clarity." Mira's work has been included in exhibitions at the Santa Monica Museum, the Armand Hammer Museum, MoMA P.S.1, the Neuberger Museum, and the Aldrich Museum of Contemporary Art. She was awarded a Creative Capital Warhol Foundation Art Writers Grant to develop A Year of Positive Thinking, a blog on contemporary art and culture and companion to her book A Decade of Negative Thinking: Essays on Art, Politics, and Daily Life, published by Duke University Press.
ARTIST: Vicki DaSilva
LOT 12: Resist, 2017. Lambda digital photographic C-print. 17 x 28 inches (20 x 30 inches framed)
FAIR MARKET VALUE: $1000. Bidding starts at $500.
DESCRIPTION: Vicki DaSilva is a light-graffiti photography pioneer whose formative years were indelibly influenced by the convergence of street art, graffiti and the birth of hip-hop. Her explorations of light as a time-based medium continue to push the boundaries of art activism. Resist is from the White House series, which she created on-site during two days in April, 2017, having obtained a film permit from the DC Office of Cable Television, Film, Music and Entertainment. NCAC recently assisted Vicki when one of her light-graffiti pieces was challenged at the Allentown Museum over its political content. Her work has been featured in numerous exhibitions, including at Interference – International Light Art Project, Tunis, Cheryl Hazan Gallery, Dorsky Curatorial Projects, Lesley Heller Workspace, and the Center for Photography at Woodstock.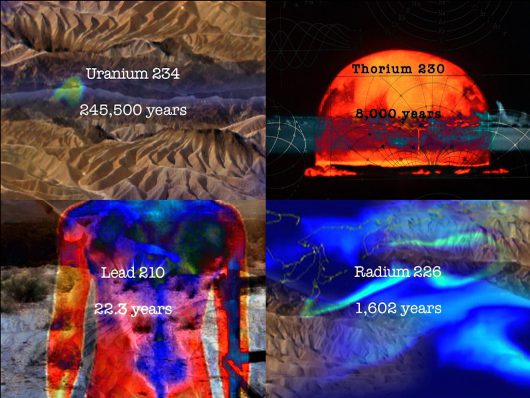 ARTIST: Eve Andrée Laramée
LOT 13: Uranium Daughters (still from 6 minute video), 2015. Giclée print. 9 x 12 inches (16 x 20 inches framed)
FAIR MARKET VALUE: $500. Bidding starts at $250.
DESCRIPTION: Since the 1980s, Eve Andrée Laramée has operated at the confluence of art and science, collaborating with physicists, geologists, and ecologists to produce installations, videos, and multi-media works. Uranium Daughters is an archival inkjet print made from a video Eve produced in response to the Fukushima meltdowns. Its imagery focuses on the dark alchemy of the Atomic Age, illuminating the decay cycle of uranium-238: as uranium decays, it transmutes into 'uranium daughters' that cascade into other elements, calling attention to the waste produced by the military during the Cold War and the parallel nuclear energy industry. Eve has exhibited internationally and received numerous awards and fellowships, including grants from the Pollock Krasner Foundation, the National Endowment for the Arts, the Guggenheim Museum, and the Warhol Foundation. Her work is included in the permanent collections of the MacArthur Foundation, MoMA (NY), MIT, the Museum of Contemporary Art Chicago, the Fogg Art Museum at Harvard, and the Hammer Museum in LA.
ARTIST: Mung Bean Collective
LOT 14: Pig Candy, 2017. C-print. 8×12 inches (framed)
FAIR MARKET VALUE: $300. Bidding starts at $150.
DESCRIPTION: In Chinese medicine, mung beans are cool in nature and sweet to the taste; they act on the heart and stomach and have many healing properties. Mung Bean Collective is a New York-based dissident street art group who act on the heart and stomach through détournement. Their photograph, Pig Candy, (named after a southern American dessert of bacon and pecans coated in caramel), alludes to the 'sugar coating' of US industrial food production practices; it was made in direct response to recent censorship by the Guggenheim Museum of three works by Chinese artists after the museum received threats of violence from animal rights activists. In response to the incident, NCAC called on cultural institutions to take an uncompromising stand against threats of violence. Pig Candy points to what exhibition co-curator Hou Hanru alluded to in a recent interview as mass confusion over distinctions between the real, the virtual, and the imagined.

ARTIST: Steven Johnson Leyba
LOT 15: Penelope (Sexgoblin series), 2006. Mixed media collage. Diameter: 10 inches
FAIR MARKET VALUE: $650. Bidding starts at $200.
DESCRIPTION: Rev. Steven Johnson Leyba is a ritualistic, shamanistic painter of Mescalero Apache ancestry. His art is equal parts satanic, holistic, radical, political, and extremely personal. Mixing paint with collage and beadwork, Steven creates work that celebrates the sacred and the profane. His handmade books have been reproduced by Last Gasp and Coyotel Press, and include commentary by William S. Burroughs, H.R. Giger, Poppy Z. Brite, Clive Barker, and Genesis P-Orridge. His work has been collected by Cornell University, the American Indian Movement, Vincent Price, William S. Burroughs, Stephen King, Clive Barker, David Cronenberg, H.R. Giger, Genesis P'Orridge, Lydia Lunch, and the Black Panther Party. Recently, NCAC intervened when Artspace, an arts non-profit, targeted Steven's works incorporating the swastika. Read our recent interview with the artist: Reclaiming the Native American Swastika Symbol.

ARTIST: Olek
LOT 16: #people, 2013-16. Crocheted m/m, 20.5 x 20.5 x 1.75 inches
FAIR MARKET VALUE: $4,600. Bidding starts at $750.
DESCRIPTION: Olek consistently pushes the boundaries between fashion, art, craft and public art, fluidly combining the sculptural and the fanciful. Through the old-fashioned technique of crochet and the ephemeral medium of yarn, she expresses everyday occurrences, often with the collaboration of members of local communities where she installs her projects and public commissions. She strives to create a metaphor for the complexity and inter-connectedness of our bodily and psychological processes. Last summer, NCAC urged the Virginia Museum of Contemporary Art to reconsider its censorship of one of her installations. Olek's work has been featured in public spaces, galleries and museums worldwide and in numerous publications including the New York Times, Vogue Italia, Wall Street Journal, New York Magazine, Daily Beast, Village Voice, and most broadcast networks.
ARTIST: William Powhida
LOT 17: What is Art?, 2017. Suite of 12 digital prints collected in an archival folio; individually signed, dated, and numbered. Images 9 × 5. ½ inches on 14 × 11 inch Inkpress Duo Matte 80 bright white paper. Edition of 20.
FAIR MARKET VALUE: $800. Bidding starts at $400.
DESCRIPTION: William Powhida provides a satirical, political, paradoxical and sometimes despairing window into the relations between art, wealth, and class through his own experiences of New York's contemporary art world. This suite of prints offers earnest/humorous responses to the question 'What is Art?' and reflect a growing suspicion that art may not be the social or cultural 'good' we'd like it to be, but perhaps the by-product of social and economic forces opposed to art. Bill's work has been exhibited widely in the US and internationally, and discussed in the New York Times, Artforum, Art in America, The Brooklyn Rail, ARTnews, Artnet, Hyperallergic, and elsewhere. His recent solo exhibition, William Powhida: After the Contemporary, was on view at the Aldrich Contemporary Art Museum in Ridgefield, Connecticut.
ARTIST: Arthur C. Gackley
LOT 18: PLEASE BURN THIS BOOK AFTER READING, 2016.  Edition 1 of 40
FAIR MARKET VALUE: $200. Bidding starts at $175.
DESCRIPTION: Arthur C. Gackley's unique 'art object,' PLEASE BURN THIS BOOK AFTER READING, is, in fact,  a signed, hand-embossed, first edition of Bad Little Children's Books, the 'politically incorrect' collection of intentionally offensive parodies of children's book covers for adults. When the publisher came under attack for its 'offensive' content, NCAC spearheaded a statement, endorsed by other major free speech groups, defending the right to create, publish, and read the book. However, after receiving thousands of angry messages, he author decided it wasn't worth it and asked the publisher not to reprint the book, which at the time had nearly sold out. This mint copy is shrouded in a brown paper wrapper, sealed with DO NOT CROSS police tape, and includes a pack of matches with the message: PLEASE BURN THIS BOOK AFTER READING.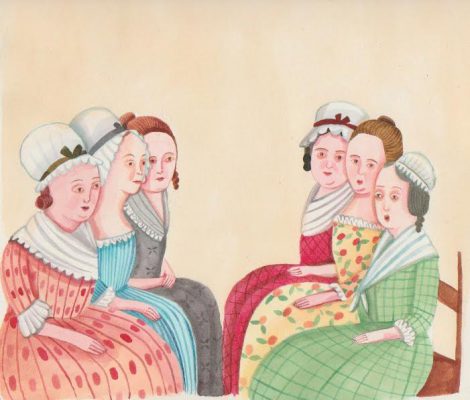 ARTIST: Giselle Potter
LOT 18: Town Ladies (from her children's book, Independence Cake, 2017)
FAIR MARKET VALUE: $400. Bidding starts at $200.
DESCRIPTION: Giselle Potter is mostly a children's book illustrator. She has written some books about her childhood and traveling with her parents' puppet troupe in Europe, some about her own daughters making doll houses or deciding what to dream about, and some of her books are by other writers such as Toni Morrison, Mary Pope Osborne, Ursula Hegi and Gertrude Stein. Lately she has been illustrating a weekly column for the New York Times called "Ties". Town Ladies is from her most recent book, Independence Cake.