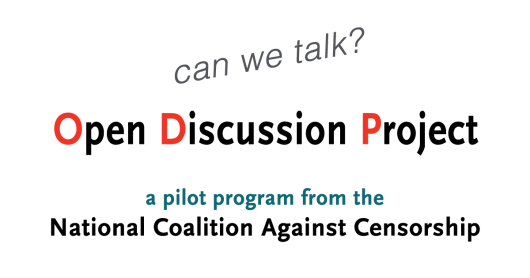 Launching Fall 2018
[Full page coming soon]
The deep and growing polarization of our society calls for a new approach to promoting the free exchange of ideas. While there is no shortage of speech today, we are only talking to those who already agree with us. In a recent poll by the Washington Post, 71% of respondents said partisanship has reached a dangerous point. We are losing the ability to discuss the urgent problems we face as a nation.
Open Discussion Project will create community-based opportunities for the democratic dialogue that strengthens civic participation.
How? The Open Discussion Project will offer resources and spaces for face-to-face dialogue between people who hold opposing opinions.
Fall 2018 Pilot In collaboration with the American Booksellers Association (ABA), we will create a new kind of reading group that offers people an informal setting for moderated talk with others who hold different views. Quail Ridge Books in Raleigh, NC, launched the first reading group, Bridging the Divide, in 2017. The group meets monthly, alternately discussing liberal and conservative titles. Its meetings have created moments of genuine empathy between people who disagree profoundly. In October, we will launch pilot reading groups in 6 additional locations across the country, in communities divided by political disagreement, with moderators trained in facilitating discussion rather than debate, supported by resources created with the National Institute for Civil Discourse (NICD).
Why NCAC? ODP will draw on NCAC's diverse nationwide coalition, more than 40 years of program expertise, experience of working at both local and national levels, collaborations with academic researchers, and our close relationships with NICD, ABA and its 2,000 member bookstores. The impact of the program will be magnified through communication with the millions of members of our coalition partners and our network of media contacts at the local, regional, and national levels.
Background ODP builds on a foundation of interdisciplinary knowledge about social interaction developed in the 1990s. Following decades of cultural conflict, social scientists, educators and business leaders began to explore the potential of dialogue. By 1999, there were more than 200 community initiatives addressing contemporary issues through dialogue. We will apply this experience to our current crisis, using modern technology for outreach and organizing efforts.
NCAC believes that Americans are not as divided as they appear and that they share many values and life experiences that make reasoned discussion of our differences possible.  We want to amplify their voices and demonstrate that free speech contributes to the vibrancy of democracy.
Learn More Please check back for updates. If you're interested in collaboration or would like to get in touch, please email ncac@ncac.org. We'd love to hear from you!
Partners American Booksellers Association, National Institute for Civil Discourse