Help Don't Delete Art call attention to its Manifesto over social media platforms by using the Don't Delete Art Giphy Sticker to censor parts of  your artwork that are prone to be read out of context by content moderation AI.
Social media platforms are stifling artistic expression, negatively impacting artists who depend on them to exhibit and market their work. Despite their potential to improve access to the arts, the flawed moderation policies of these platforms frequently disregard artistic contexts, leading to the deletion of posts, locked accounts, and post and account suppression.
Don't Delete Art Manifesto is bringing together members of the art community to demand that artists and arts professionals are prioritized as major stakeholders in social media content regulation, and that social media companies reconsider existing restrictions on artistic content, review alleged violations, and create better appeals and notifications processes.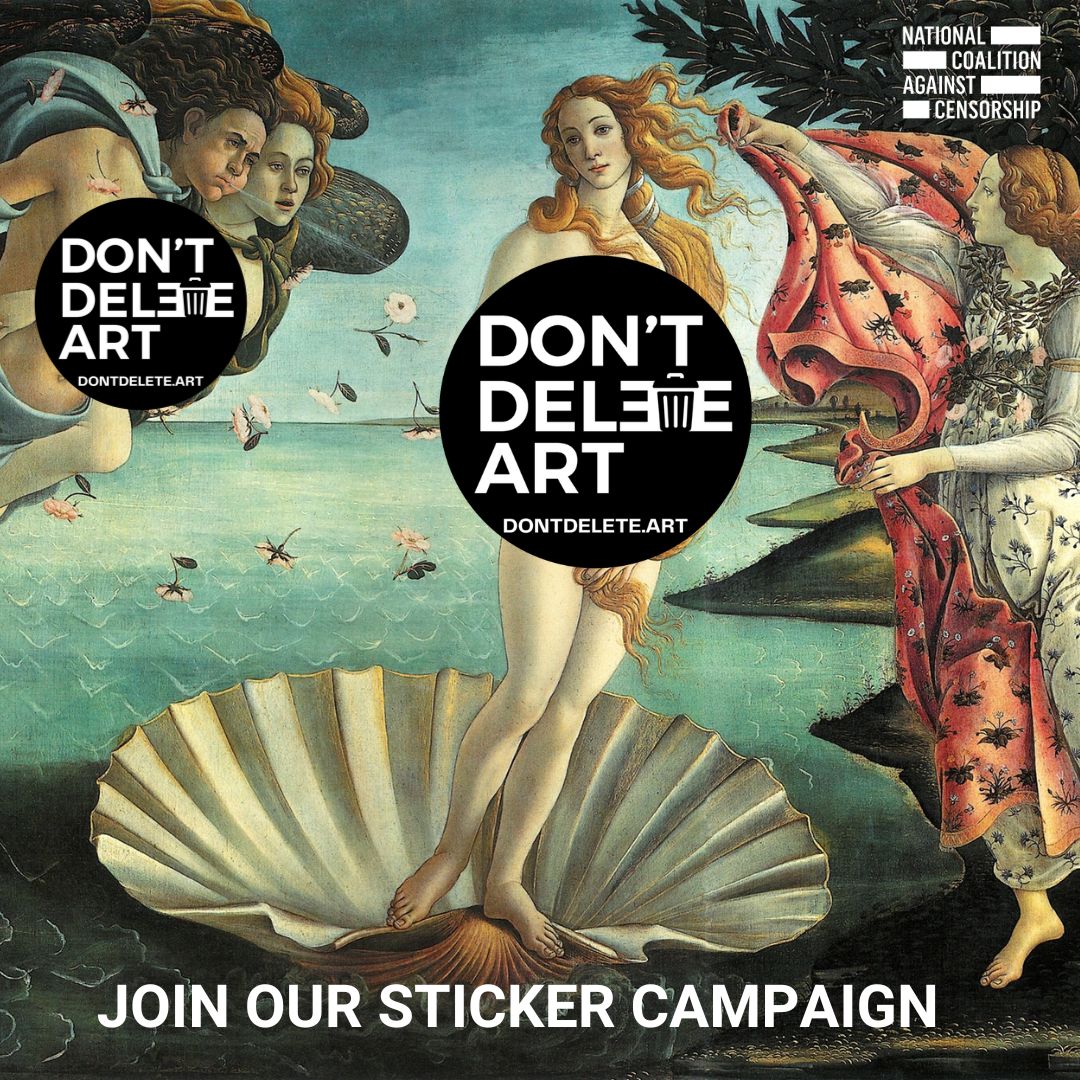 Instructions for Supporters to Participate on Instagram
1. Tap the + and select Reel or Story
2. Select your desired Image from the lower left corner
3. Click on the Sticker icon
4. In the Search bar, type "@dontdeleteart" (Note: You must include the @)
5. Use the DDA Giphy to self-censor your work in Stories and Reels, take a screenshot, add it to Posts, and more.
6. Always be sure to tag @dontdelete.art
7. Consider adding accompanying text about the campaign. Sample text:
On social media platforms like this one, artistic content regularly gets read out of context by content moderation AI, which results in posts and accounts being wrongfully suppressed or prohibited altogether. Don't Delete Art's Manifesto is uniting voices across the arts to demand greater inclusion of artistic perspectives in social media content moderation policies. For more information, check out @dontdelete.art and please sign their Manifesto.
Founded in 2020, Don't Delete Art (www.dontdelete.art) is a collaborative initiative focused on protecting artistic expression across online platforms. Its online Gallery displays art that is suppressed by or removed from social media platforms; its Resources aid artists in navigating the current terms of social media censorship; and its Blog and Newsletters provide analysis of new censorship trends and policy changes. DDA is formed by the National Coalition Against Censorship's Art & Culture Advocacy Program, PEN America's Artists at Risk Connection, Freemuse, and artist-activists Savannah Spirit, Spencer Tunick, and Emma Shapiro. Instagram: @dontdelete.art | Facebook: facebook.com/dontdeleteart