"Liberty without learning is always in peril and learning without liberty is always in vain."
– President John F. Kennedy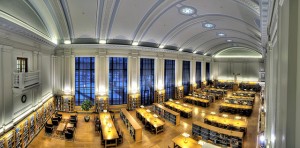 The core mission of educational institutions is to advance knowledge, promote the exploration of ideas, and train a new generation of informed citizens and competent leaders by exposing them to a wide diversity of views. In practice, once the conversation on campus turns to sensitive matters – of race, sexuality, religion, or politics – belief in this mission often falters.
NCAC opposes attempts to silence classroom discussion on controversial subjects, to remove artwork from campuses because it may cause offense, and to cancel events because they address politically divisive issues, regardless of whether such attempts are initiated by the college administration or by an external source: In both cases they violate core principles of free speech and academic freedom.
Public educational institutions are bound by the First Amendment to not discriminate against particular ideas, no matter how controversial they might be. Both public and private colleges are expected to uphold the principle of Academic Freedom, which protects higher education as uniquely important to the production and transmission of knowledge in society. Campus censors are often well-meaning but also often misguided in their actions.
NCAC produces legal and policy analysis to draw a clear line between serious problems like sexual harassment and discussions of sexual subject matter, which some students may find uncomfortable; between legitimate requests for balance and attempts to silence unpopular political viewpoints; and between a university's non-discrimination policy and the suppression of conversation on sensitive and disturbing subjects.
Trigger Warnings
To place trigger warnings on material that could be potentially discomforting will not only hinder the academic growth of students, it will invite self-censorship
A particular threat to academic freedom popping up on campuses nationwide is the idea that certain material can "trigger" post-traumatic flashbacks. At Wellesley College, students signed a petition asking the school to remove Tony Matelli's Sleepwalker from the college campus because they feared the sculpture of a middle-aged man in his underwear could serve as a trigger for sexual assault victims. Administrators at Oberlin College believed they were protecting vulnerable students when they proposed a policy advising faculty members to provide warnings for "issues of privilege and oppression" like racism, classism, sexism, heterosexism, etc. At Kennesaw State University, artwork by Ruth Stanford was removed for including an historical article about lynching; NCAC's advocacy helped to restore the piece. While students diagnosed with PTSD deserve support from faculty and administrators, it is important not to confuse a serious medical condition with simple emotional discomfort.
Experiencing strong emotion when viewing art or reading a book is an important part of the educational process: it challenges students to expand their knowledge beyond the familiar and question their views of the world. To place trigger warnings on material that could be potentially discomforting will not only hinder the academic growth of students, it will invite self-censorship. The Association of American University Professors (AAUP), in collaboration with the National Coalition Against Censorship, published "On Trigger Warnings," a statement regarding the current trend to apply trigger warnings to academic curriculum containing "anything that might trigger difficult emotional responses for students." The report details the negative effects that trigger warnings have on the academic freedom on professors and on the intellectual growth of students. Read more on trigger warnings in the Fall 2014 edition of Censorship News.
In late 2015, NCAC released "What's All This About Trigger Warnings," a groundbreaking survey of hundreds of college instructors sharing their experience with trigger warnings and the threats to academic freedom and inquiry.