MISSION
The Youth Free Expression Program empowers youth with knowledge, tools and opportunities to assert and defend their right to free expression.
Young people become thoughtful and informed adult citizens by learning, questioning and building critical thinking skills. This is undermined by attempts to stifle young voices and shield young people from controversial, disturbing or "inappropriate" content. YFEP believes that denying young people the freedom to create, explore and inquire is counterproductive and dangerous. Young people have every right to participate in conversations–locally, nationally and globally–that affect their lives.
OUR WORK
Book Censorship
NCAC's Kids Right to Read Project (KRRP) confronts challenges to books in school and public libraries, advocates against book rating systems and opposes censorship in school curricula. We work behind the scenes with groups of teachers, administrators and school leaders on policy guidance.
If you have experienced a book challenge in your school or library, please report it here.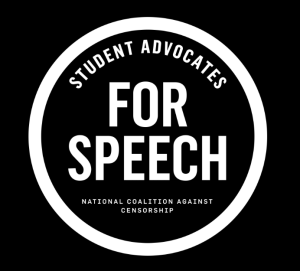 Student Advocates for Speech 
The Student Advocates for Speech (SAS) is a new national network of high school free speech clubs dedicated to empowering the next generation of leaders to advocate for freedom of expression as both a fundamental human right and a keystone of democracy.
More information about the program is available here.
Youth Free Expression Film Contest
The annual YFEP Film Contest invites teenagers to create a short film on a contemporary free speech debate of particular relevance to young people. The theme for 2023 is "Speaking with People whose Ideas you Hate".
The theme for 2022 was "What Does Free Speech Mean to Me?" See the finalists' films here.
AMPLIFY STUDENT VOICES
GET IN TOUCH
The best way to combat censorship is to call it out as it happens.
If you have experienced or witnessed a threat to free expression rights, please contact us! An advocate will get in touch with you.