Outside, a panorama view of the New Jersey skyline, reflected light twinkling on the east river; inside, talk of books, art, community, and censorship. This past Tuesday, NCAC celebrated its 39th year at our annual "Celebration of Free Speech and Its Defenders" benefit, honoring author Sherman Alexie and others for their commitment to free speech and expression.
Also honored were Peter Workman, the late publisher of Workman Publishing and Wilma  Grey, Director of the Newark Public Library in New Jersey. Earlier this year, Grey displayed a controversial work by artist Kara Walker and fought for it to remain, uncovered, despite complaints and calls for removal from staff members and community members.
By allowing the art piece to remain in the library, Grey demonstrated that a single individual can make an impact in the fight for freedom of expression. Kara Walker herself presented the award to Grey at the event, commending her courage and aplomb in a challenging situation. (Why does Free Speech Matter to Kara Walker and Wilma Grey? Watch the video below.)
Paying special tribute to Workman, who passed away earlier this year, was President and CEO of Abrams Books and NCAC Board President, Michael Jacobs. In addition to his decades-long work in letters, Workman helped found the NCAC Free Speech Leadership Council in 2009, a group of intellectual, cultural, legal, and business leaders committed to the defense of free expression.
"Free Speech Matters 2013" was as much a reminder of the necessity and value of NCAC's work in defense of free expression as a celebration of that work. The very day of the benefit, we were working to resolve a challenge to Alexie's The Absolutely True Diary of a Part-Time Indian in Billings, Montana. Hoping to urge the Billings Public Schools board to keep the book on the reading list, we wrote a letter of support highlighting the importance of freedom of speech and more importantly, imagination.
The connection between Alexie, his readers and would-be book banners was put in sharp relief when Gio Garcia, a NYU student and 2012 semi-finalist in our annual film contest, took the stage to introduce Alexie. Garcia, who is originally from Tucson, talked about how much he admired and looked up to Alexie and how much he valued books like Absolutely True, especially considering the recent disbandment of the Tucson USD Mexican-American Studies Program.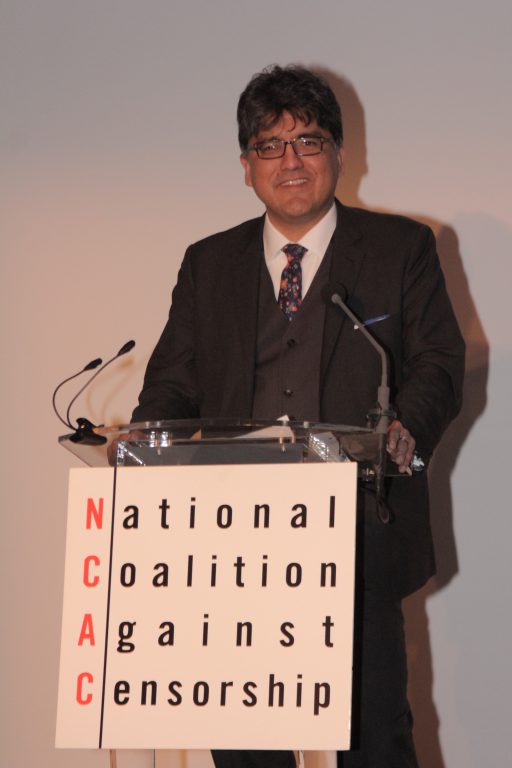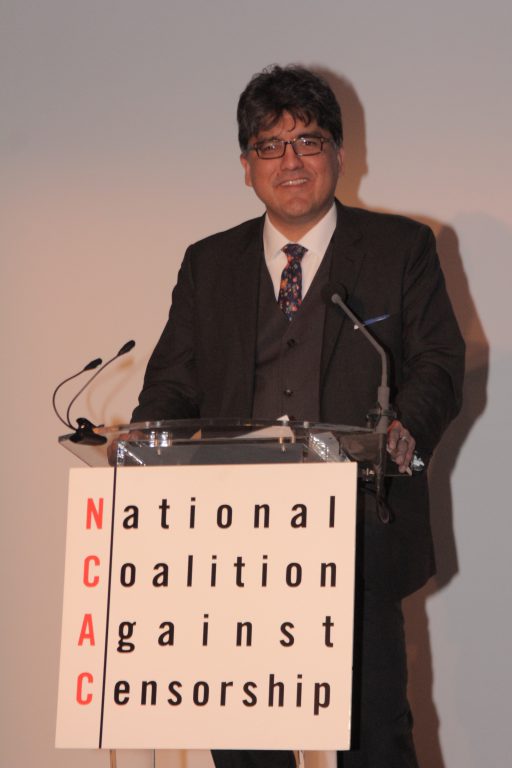 Taking the stage, Alexie both poked fun at the absurdity of people trying to ban his book and expressed his frustration with such attempts. Gesturing to Garcia, he jokingly lamented, "I wish I had someone like me to look up to when I was growing up."
The vibe of the night followed our guests and staff home from the Tribeca Rooftop. After the event, Heather Scott, a supporter and attendee, shared this message with us on twitter: "I love leaving an event feeling inspired, uplifted, and ready to fight for books & readers." 
And that is precisely what we need—authors, publishers, artists and advocates of free speech getting revved up to fight alongside us to uphold our valuable mission. With your help, we grow closer to our goal of protecting and defending free expression and access to information.
If you couldn't join us for Free Speech Matters 2013, but believe in the work we are doing, donate today and help us keep free speech alive.