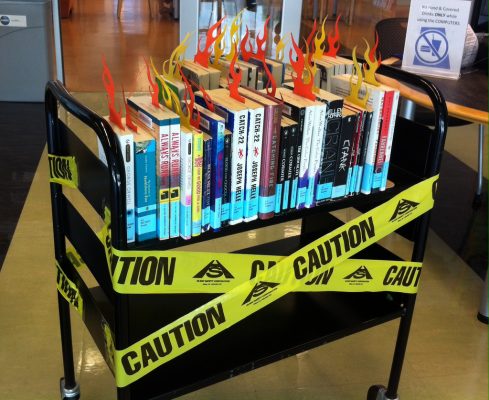 NCAC, the Comic Book Legal Defense Fund (CBLDF) and 5 other organizations committed to defending the freedom to read are protesting an Oklahoma school's decision to remove a graphic novel from the school library after parents complained about its use of bad language and adult themes.
NCAC recommends the book be kept in district libraries and that the district revise its book challenge policy that removes books prior to a proper review.
A small number of parents of students at the Del Crest Middle School in Oklahoma, part of the Mid-Del School District, expressed concern that the book Stuck in the Middle, a series of illustrated tales edited by Ariel Schrag, was unsuitable for the school library because of its references to adult themes, like drug use and sex. The school responded according to the district book challenge policy, by temporarily pulling the book from library shelves and arranging a review committee to issue a recommendation on the future of the book in the library.
According to the Comic Book Legal Defense Fund, Stuck in the Middle has previously been challenged in Sioux Falls, SD; Dixfield, ME; and Aransas County, TX. The latest incident in Oklahoma was particularly concerning given the alarmist news reports on the story that contained factual inconsistencies and biased reporting. One report unfairly castigates the novel as "trash" using questionable evidence such as its Amazon.com review page that was mobbed by readers of the conservative "MommaBears" parenting blog.
NCAC's letter underlines that the presence of adult themes and bad language provides no justification for deeming a book unsuitable for school libraries. It highlights that Stuck in the Middle is critically acclaimed, and praised for its realistic, un-sanitized depiction of difficult situations that characterize the harder truths of teenage life. The letter also notes that a policy that responds to every book challenge by removing the book prior to any form of review runs the risk of leaving entire curriculums in shreds.
Moreover, the letter points out that removing library books because they contain 'adult themes' could also justify the removal of literary classics like The Catcher in the Rye or Romeo and Juliet. And although not every book will be suitable for every student, removing the book from the library denies every student the opportunity to read a book they may find engaging and pedagogically valuable.
The letter is co-signed by the Comic Book Legal Defense Fund, National Council of Teachers of English, American Booksellers for Free Expression, Authors Guild and PEN America.
In response to this incident, NCAC and CBLDF have conducted an interview with Stuck in the Middle editor Ariel Schrag, read it here!
Read the letter below; click here for a full screen view.