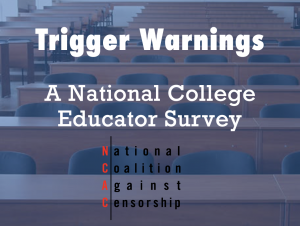 Trigger warnings are back in the news. A new study published in the Journal of Behavior Therapy and Experimental Psychiatry concludes that trigger warnings in academic settings "increase anxiety to written material perceived as harmful."
Much debated in recent years, trigger warnings are written warnings to alert students in advance that material assigned in a course might be upsetting or offensive.
The study, conducted by Benjamin W. Bellet, Payton J. Jones and Richard J. McNally of the Harvard University Department of Psychology, assigned online participants a selection of literary readings. One group received trigger warnings about potentially disturbing content and one did not. The study found that the warnings heightened participants' sense of emotional vulnerability, concluding that "participants receiving warnings reported greater anxiety in response to reading potentially distressing passages, but only if they believed that words can cause harm."
Those who oppose mandated trigger warnings caution against the infringement on teachers' and students' rights to academic freedom. Trigger warnings have also become a target for those in the media who deem students overly coddled.
NCAC, in partnership with the Modern Language Association and College Art Association, surveyed more than 800 educators to find out the real prevalence of trigger warnings and how they are affecting teaching and learning in higher education.
Richard McNally, one of the authors of the Harvard study, provided key assistance in NCAC's research and report.
The survey revealed four key findings:
While very few institutions have formal trigger warning policies, educators report a significant number of requests and complaints from students.
Many—but not all—educators believe that trigger warnings have adverse effects on academic freedom and the learning environment.
Many educators distinguish trigger warnings from the common practice of informing students about course content.
Supporters and critics of trigger warnings alike are opposed to administrators requesting or requiring their use.
A substantial minority of survey respondents—a little over 17%—believe that trigger warnings have or could have a positive effect on education and classroom dynamics.
The discussion of trigger warnings relies heavily on anecdotes reported in the press. This survey widens the lens considerably. The open-ended comments gathered along with the survey offered hundreds of instructors a chance to share information about what's actually going on in the classroom and what they think it means. The full conclusions and results can be found here.