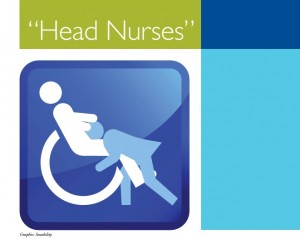 A prominent medical humanities professor announced her resignation from Northwestern University after administrators censored a faculty magazine and instituted an editorial review process that undermines academic freedom.
Alice Dreger, a well-known author and bioethics professor, sent a letter of resignation to Northwestern Provost Daniel Linzer on August 24, in which she writes:
I no longer work at a university that fearlessly defends academic freedom in the face of criticism, controversy, and calls for censorship. Now, I work at a university at which my own dean thinks he has the authority to censor my work.
The flashpoint was the Winter 2014 issue of the magazine Atrium entitled "Bad Girls," exploring "pervasive cultural myths" about women's behavior and notions of feminity. It included a piece, "Head Nurse," in which Syracuse professor William Peace recounts his experience in 1978 when, as a recently-paralyzed 18 year old deeply anxious over whether he would regain sexual function, a nurse in a rehabilitation facility reassured him by, among other things, performing oral sex – an act that he found profoundly compassionate and reassuring, and for which he remains grateful. While the subject matter alone is certainly provocative to some, the piece is a thoughtful, poignant examination of recovery, sexuality and the rehabilitative process.
But officials at Northwestern's Feinberg School of Medicine were alarmed by the article and the damage it might do to the school's "brand," leading them to take down all digital editions of the magazine.
The magazine's archives were restored in May– reportedly one day after Dreger threatened to go public. But the university is pushing to institute a pre-publication vetting process for Atrium—what Dreger and her colleagues dubbed "the censorship committee," which includes a member of the Northwestern public relations department.
As Dreger recounts in the letter, at the time of the censorship she was finishing work on her book about academic freedom:
When in early 2014 I learned that my dean, Eric Neilson, had given the order to censor Bill Peace's article in the issue of Atrium that I edited, it seemed like a cosmic joke, or perhaps a publicity stunt being arranged by Penguin Press. I was doing the final fact-checking, lawyering, and page-proofing of Galileo's Middle Finger: Heretics, Activists, and the Search for Justice in Science, which, as you know, is a book about academic freedom that focuses particularly on researchers who get in trouble for putting forth challenging ideas about sex. I could not believe my own dean would censor an article because it recounted a consensual blowjob between a nurse and a patient in 1978.
Dreger is the second faculty member to leave in connection with the Atrium censorship scandal. Clinical professor Kristi Kirschner, who had written for the issue in question, resigned in December. And this is all happening alongside a separate controversy involving another Northwestern professor, Laura Kipnis, who faced a lengthy investigation in connection with an essay she wrote in February. That piece, "Sexual Paranoia Strikes Academe," prompted a Title IX complaint from two students alleging that the piece created a hostile environment. Kipnis was eventually cleared of all charges.
One cannot help but be concerned about the state of academic freedom at Northwestern University– and the lack of support administrators have shown for faculty engaged in controversial work.