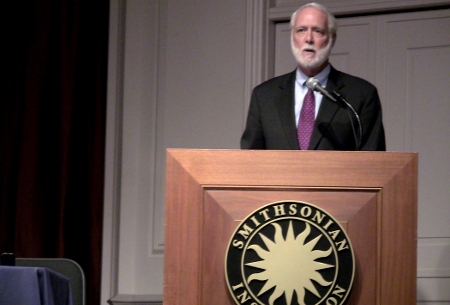 G. Wayne Clough is familiar to followers of NCAC as the Smithsonian Institution Secretary who unilaterally pulled a video from a National Portrait Gallery exhibition at the behest of Congressional Tea Party pressure. Clough has just announced he will resign from the Smithsonian in 2014.
New York Times and Washington Post coverage of the announcement failed to mention the Fire In My Belly censorship incident, arguably the most notable scandal in recent Smithsonian history, though the Wall Street Journal raised the subject in their penultimate paragraph.
Washington City Paper and Washingtonian's posts on the resignation announcement gave significant attention to the incident, but the Gold Star Effort Award goes to the LA Times Culture Monster blog for leading with the headline "G. Wayne Clough, Smithsonian chief who pulled artwork, to step down".
Since Clough never recanted his impulsive deference to such artistic luminaries as the Catholic League and Eric Cantor, that is how we will always remember him, too.