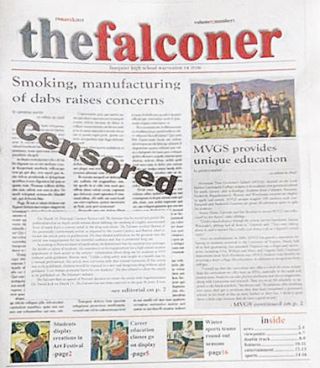 Every so often, high school journalists are forced to learn a hard lesson: They don't always have the freedom to publish the kind of journalism they want to publish. But sometimes the school administrators learn a lesson too: Censorship can be circumvented.
That's what happened recently in Warrenton, Virginia. The high school newspaper The Falconer was set to publish an investigative piece about "dabbing," what the paper's co-editor SaraRose Martin called "the most recent craze to dominate the drug subculture." It's a new way of consuming THC, the active ingredient in marijuana, using butane to extract it and then consuming it as a vapor.
The problem is that administrators didn't want this article to appear in the school paper. As principal Clarence Burton explained it in a letter to the paper, "If this article was to be published, children would be exposed to a new and dangerous drug without adult guidance."
The paper's editorial staff offered this response:
By censoring the article, the administration's position seems to be that educating young people about a topic that is controversial and dangerous means that they will go out and do it. Topics like teen pregnancy, drunk driving, suicide, and drugs should not be discussed, at least not by students in a student newspaper. The voices of high school students on these topics must be silent, and the only messages that are sanctioned are those of the administration. That way, controversy will not happen, and it will not exist. In reality, most of the student body, including freshmen, knows that dabbing exists.
But the paper didn't just take the step of disagreeing with school authorities. As Mariana Viera of the Student Press Law Center reported, a local news outlet called Fauquier Now heard about the case, and decided that good journalism should see the light of day:
Martin said the editor of Fauquier Now, a local online news outlet, contacted her after he saw her editorial on the latest edition of The Falconer, where she described the censorship. He said he was interested in running her story on the website, along with the editorial and the letters of appeal.

Lou Emerson, the editor of Fauquier Now, said he decided to publish Martin's story because "it's a good story that deserved publication," adding that he didn't see anything dangerous about it.
In its editorial published at the Now website, the student newspaper editors sum up one of the realities of high school journalism: "If The Falconer does put in the hours to write stories that matter to the lives of students, the administration can kill them with the stroke of a censor's pen."
In this case, though, their story found a new home. It's not the first time the internet has come to the aid of student journalists— and it surely won't be the last.