April is National Poetry Month — which makes it a perfect time to take a look at a few poems that have been banned throughout the ages. While the censors may not want you to indulge in such scandalous content,  we insist that you shout these poems from the rooftops (or wherever you prefer to shout things)!
Prompting sting operations, arrests and a long series of trials, Howl has faced more scrutiny than perhaps any other work of poetry. Understanding that any mainstream publishing company would have rejected it, Howl was published by fellow Beat poet Lawrence Ferlinghetti in 1956. Controversial lines — and there are many — include "America… Go fuck yourself with your atom bomb," and "When I first got laid, HP graciously took my cherry… ".
Ginsberg's uncompromising language brought severe consequences, for the author and his publisher. The second edition of Howl was printed in England in 1957 — and U. S. Customs seized all 520 copies. In response, Ferlinghetti decided it would be safer to keep production in the U. S. After having another 2,500 copies printed, a sting operation was conducted in 1957 in Ferlinghetti's City Lights Books by two officers from the Juvenile Bureau of the San Francisco Police Department. They arrested Ferlinghetti and the store's manager and charged them with publishing and selling obscene works.
The famous People v. Ferlinghetti trial began in August. In October the trial ended with a positive verdict: The book had what judge Clayton Horn called "redeeming social importance" and thus was protected by the First Amendment. While it was ruled not "obscene," 50 years later similar issues came up around the poem when a New York community radio station wrestled over whether or not to broadcast a reading of Howl. Believing they would receive fines from the FCC — up to $325,000 per offending word — the poem's reading was made available online instead.
We believe Ferlinghetti said it best: "It's such a hypocritical concept of American culture in which children are regularly exposed to adult programming in the mass media, with subjects ranging from sexual to criminal to state-sponsored terrorism, while at the same time they are not allowed to hear poetry far less explicit."
Shel Silverstein – A Light in the Attic
The 1981 collection A Light in the Attic is one of Shel Silverstein's most popular books. But not with everyone; due to several of the poems it contains, it has been challenged on numerous occasions.  In 1985, it was banned at Cunningham Elementary School in Wisconsin because the poem, How Not to Have to Dry the Dishes, was accused of "encourag[ing] children to break dishes so they won't have to dry them."  Another school in Wisconsin followed Cunningham's lead about a year later, forbidding the book over concerns that it "glorified Satan, suicide and cannibalism, and also encouraged children to be disobedient." And a school library in Indiana faced a challenge based on a concern that the book included "anti-parent material." Silverstein's book also faced challenges at Fruitland Park Elementary School in Florida after parents were shocked to learn that Abigail in Little Abigail and the Beautiful Pony dies in the end.
There have been theories that A Light in the Attic was not challenged for its content, but because of other work that Silverstein had done. He had started drawing cartoons for Playboy since the mid-1950s, which apparently lead some to believe that his books contain "suggestive illustrations."  Whatever the reasoning, A Light in the Attic was ranked #51 on the American Library Association's list of 100 most banned books of the 1990s.
Walt Whitman – Leaves of Grass
Walt Whitman's classic Leaves of Grass faced challenges and fierce criticism almost immediately after being published in 1855. Its sexual references and homoeroticism were the main cause for concern among its opponents. The book was labeled "obscene," "too sensual" and "shocking." The outrage that Whitman's work generated caused bookstores, libraries and schools to ban the collection of poems. In fact, all but one library refused to shelve the book, and booksellers in New York, Massachusetts and Pennsylvania discouraged customers from buying it. Whitman himself was fired from his job as a clerk after his supervisor found a copy of Leaves of Grass in his store.
Though considered a classic now, the hostile reaction lasted for many years.  Leaves of Grass was likened to "walking naked through the streets" by the president of Yale University 15 years after it had been originally published.  And it was legally banned in Boston twenty years after its publication, when the District Attorney threatened Whitman's publisher with criminal prosecution.
Gwendolyn Brooks – We Real Cool
Published in 1960, Gwendolyn Brooks wrote "We Real Cool" for her book, The Bean Eaters. It recalls the attitudes of a group of rebellious "cool" young men who leave school to "lurk late" and "Sing sin." Although Brooks was already historically significant after having won the Pulitzer Prize in poetry in 1950 (the first African-American to do so), this poem was banned in West Virginia and Nebraska schools — presumably over the line "We Jazz June," which some believed to be a reference to sex. Brooks denied this, and some have even argued that this misinterpretation demonstrates a "white-centric" misunderstanding  among the book's censors.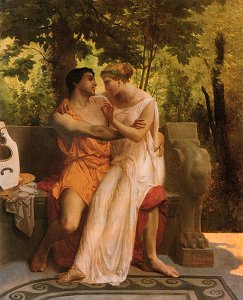 Written in the year 8 CE by Roman poet, Ovid, Ars Amatoria or "The Art of Love" has been a work of banned poetry for over 2,000 years. It includes three separate books, the first two directed towards men and the third towards women, all with the purpose of offering advice about courtship and romantic relationships.
Portraying himself as a "teacher of love," Ovid was banished from Rome for his scandalous insinuations about sex and romance. A more specific reason for the book's prohibition is its commentaries on the subject of adultery, which was prohibited under Roman legislation. In 1497, all of Ovid's works were burned in Savonarola's infamous bonfire for being "erotic, impious, and tending to corrupt." The Archbishop of Canterbury and the Bishop of London burned translations of Ars Amatoria as well as Ovid's poetry book, Elegies, among other works in 1599.
But it didn't end there: U.S. Customs officials banned Ars Amatoria in 1930. While Ovid has been given a front row seat in book burnings for the past two millennia,  Ars Amatoria remains a part of high school and college curricula.