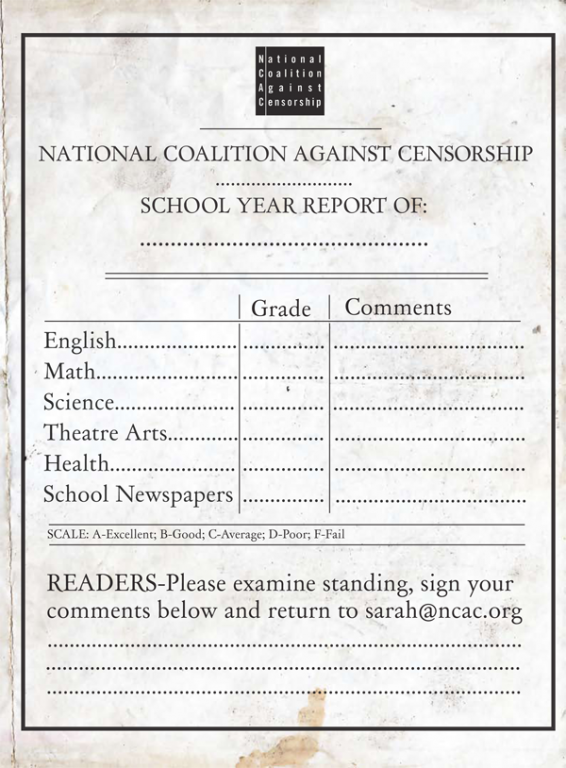 GRADE:  B –
The push to teach abstinence-only education landed Health Education (primarily sexual education) in an abysmal place.
As we have explained on the NCAC website, government funding-based mandates to provide a narrow and limited curriculum on a topic, such as human sexuality, amounts to censorship.  Essentially, the abstinence only curriculum left out essentially information about contraception and sexually transmitted diseases.  These curricula also compelled health education teachers to provide students with biased and incorrect information.  Just yesterday, Columbia University and the Guttmacher Institute released a study reporting that these programs do not work!
Nevertheless, sex ed does not earn a failing grade for the 2008-09 school year for a couple of reasons:  changes in the federal budget for next year, pending legislation, and individual school boards voting to adopt comprehensive sexual education curricula.

In May, President Obama released his budget for the 2010 fiscal year with a complete elimination of funding for the teaching of abstinence only curricula. (scroll down to page 39 in the budget.)  The budget also proposed "a new Teen Pregnancy Prevention Initiative to support community-based and faith-based efforts to reduce teen pregnancy using evidence-based and promising models."
Earlier this year, in March, Representative Barbara Lee (D-CA) and Senator Frank Lautenberg (D-NJ) introduced a bill titled: "Responsible Education About Life Act." This act calls for providing states with funding to introduce and conduct comprehensive sexual education programs in the schools.
Finally, high school students successfully lobbied the Pittsburgh Board of Education to adopt a comprehensive  sexual education curriculum that will teach students about
human development, relationships, personal skills such as decision-making and assertiveness, sexual behavior, sexual health and society and culture. That includes such topics as sexual orientation, marriage and life commitments, sexual dysfunction, sexual abuse and gender roles.
The capacity to make these changes in policy raises the grade to a B-.  If positive changes continue, along with enacting into law the "Responsible Education About Life Act,"  next year's grade will be higher.