Censorship continues full front attacks on all the arts.
Two weeks into 2011, we've already seen censorship of David Wojnarowicz at the National Portrait Gallery; a new edition of Mark Twain's Huckelberry Finn hit the bookstores, without the N-word; the arrest of Belarus theater director Nikolai Khalezin of Belarus Free Theatre and now the Waterbury Connecticut school district is attempting to cancel a high school production of August Wilson's play Joe Turner.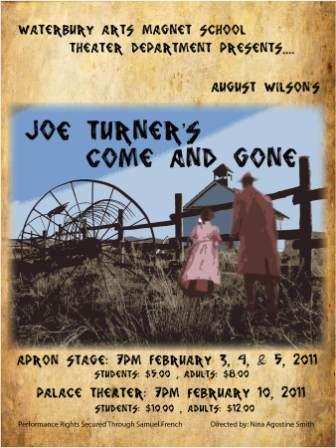 As reported in the New York Times, David Snead, Schools Superintendent of Waterbury, CT wants to close down the production of the play because of the use of the N-word. "The use of the N-word is something all civil rights leaders around the country want us to stop using," said Mr. Snead.
Ms. Elizabeth McGrath, the principal of the Waterbury Arts Magnet School, is still moving ahead with the play, which won critical acclaim when it first ran on Broadway in 1988 and revived in 2009. It is considered among Wilson's best plays. McGrath made sure to contact the appropriate channels to get approval for the play.
The director of the play, Nina A. Smith, has prepared a study guide to ensure that the students performing in the play understand the context of the use of language and has also organized post-performance talkbacks between the performers and the audience to discuss the work.
Stay tuned as we follow developments, today we expect the Waterbury School Board to make a final decision.