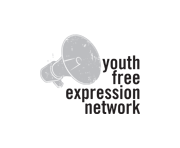 Today is the deadline for our contest Free Speech in Schools: Does it Exist? Students 19 and younger are encouraged to film their response in 4min or less for the chance to win up to $1000 and a scholarship to the  New York Film Academy.  See more details at Youth Free Expression Network or even apply online now!
According to the Knight Foundation, "Nearly three-fourths of high school students either do not know how they feel about the First Amendment or admit they take it for granted and more than a third think the First Amendment goes too far in the rights it guarantees." The YFEN film contest offers young people an opportunity to think critically and creatively about these issues.
Winning films are made available on our website and are used in workshops as part of a larger effort to foster youth voices and to educate the public about young peoples' rights. They will also be shown at our spring Youth Voices Uncensored event!
We look forward to viewing your films!