With greater LGBTQ acceptance in the mainstream has come a rise in challenges to LGBTQ literature. In a conversation with the National Council of Teachers of English, Jill Herman-Wilmarth, an associate professor in the College of Education and Human Development at Western Michigan University, said, "one of the reasons that we have this cultural idea that this is a controversial topic is because we only talk about it when we have to, instead of talking about it just like we talk about all sorts of other things with our students—about people who don't like like or live like or learn like others who are more familiar to us." Below are five notable LGBTQ books, praised for their educational, literary, and artistic merit, under fire simply for their supposed difference.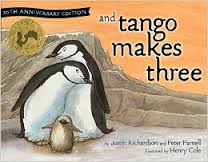 And Tango Makes Three

By Justin Richardson, Peter Parnell, and Henry Cole (Simon and Schuster)
Who could have a problem with a picture book about two penguins living in a zoo? Plenty of people, it turns out. Based on the true story of two male penguins raising a chick in the Central Park Zoo, And Tango Makes Three is one of the most challenged books of the last 10 years, with claims coming in that the book "promoted a homosexual agenda." At a Loudon Country, Virginia, elementary school, the book was removed from shelves in 2008 thanks to a decision by the local superintendent. But not for long; there was an immediate backlash and many called for a reconsideration of the decision. A librarian at a Southwick, Massachusetts, elementary school, claimed she feared losing her job after introducing a class of second graders to the story. The librarian subsequently received a letter from her principal requesting that she "take [the] matter seriously and refrain from disseminating information that supports alternative styles of living," and that "further infractions [could] result in discipline up to and including suspension and/or termination of employment." Other complaints have surfaced in Iowa, Georgia, Tennessee, Iowa, Wisconsin, Indiana, Illinois, and North Carolina.
Fun Home

By Allison Bechdel (Marnier Books)
The overarching themes of Allison Bechdel's award-winning graphic novel–now an award-winning Broadway show–have been challenged since the book's 2006 publication. And these challenges haven't been limited to high schools: in 2015, a student at Crafton Hills College in California protested the use of that book, as well as several other graphic novels, in her English course. She and her father called for the book's removal, but the administration thankfully didn't budge. This followed an effort by a conservative group in South Carolina that criticized the College of Charleston for its selection of Fun Home as its summer read for incoming freshmen. The group called the choice of the book, to be read by students who were legally adults in an educational setting of their own choosing, "shocking." And a group of incoming freshmen at Duke University made national headlines when they would not be reading Fun Home as part of an assignment for all first-year students. One of the students explained that "in the Bible, Jesus forbids his followers from exposing themselves to anything pornographic."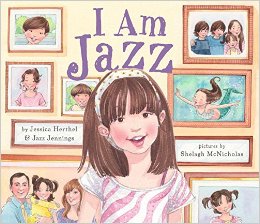 I Am Jazz

By Jessica Herthel and Jazz Jennings (Penguin Young Readers Group)
I Am Jazz is the true story of transgender youth activist Jazz Jennings and her family's struggle to understand. But some people don't want students grappling with these concepts. Last winter, the conservative Liberty Counsel advocacy group threatened to file a lawsuit to prevent Mount Horeb Area School District in Wisconsin from reading and discussing the book. The planned reading, which was intended to support a gender variant student in the elementary school, was indefinitely postponed. But the school board voiced its full support, passed new policies to accommodate transgender students and stated that "this board will stand united and we will not be intimidated and we will teach tolerance and will be accepting to everyone." And soon the message spread; community readings attracting hundreds sprung up in the town, prompting reading days of I Am Jazz across the country.
My Princess Boy

By Cheryl Kilodavis (Aladdin)
My Princess Boy has come under fire in places like Hood County, Texas, where patrons protested its presence in the children's section of the public library in June 2015. Some even suggested copies of the book be burned. The work was inspired by the author's son, who likes to twirl and wear dresses and tiaras even while doing "boy" things like climbing trees. It was heartily defended by the county's Library Advisory Board and attorney general and by many members of the community. My Princess Boy remained on the shelves, but it continued to face challenges in places like Mount Vernon, Iowa, where some parents felt the picture book wasn't "age-appropriate" for kindergarteners.
King and King

By Linda de Haan and Stern Nijland (Tricycle Press)
In the spring of 2015, third-grade teacher Omar Currie read King and King to his class after a bullying incident in his Efland-Cheeks Elementary School classroom in Orange County, North Carolina. The picture book, about a prince who does not want to marry a princess, but who instead falls in love with a man and later marries him, was the ideal vehicle to teach an important lesson about tolerance and acceptance. But some parents complained, and while a reconsideration committee defended the use of the book, Currie felt under siege–especially after administrators warned that teachers would need to send lists of books home to parents for their review, undermining teachers' discretion and expertise. Currie left the district at the end of the school year. There have been other challenges to King and King in Indiana, Massachusetts, and Pennsylvania.

FACING A CHALLENGE TO AN LGBTQ BOOK IN YOUR COMMUNITY? VISIT OUR LGBTQ RIGHT TO READ RESOURCE GUIDE!