We all believe in free speech, but does that mean anything goes? What about the speech that offends us, makes us cringe, and provokes our anger (and desire to censor)? Is there anything that should be outlawed in art, films, books, music, video games, TV, or online? Is free speech an all or nothing proposition or something in between? These films explore what kind of speech, if any, should be censored, and why. Our participants this year were compelling, provocative and we're honored to have them.
Thanks to everyone who came out to our Youth Voices Uncensored Awards Screening! And special thanks to Reelworks and Global Action Project for amazing films, and to the New York Film Academy for hosting and participation in the contest.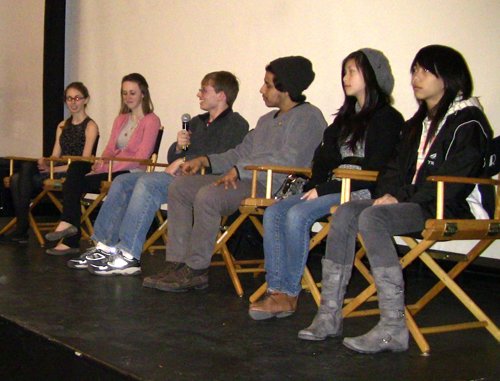 From left to right: Lindsay Tomasetti and Evangeline Fachon ("Static"); Aaron Dunbar ("Hare Tactics"); Jesus ("Isa's Final Draft"); Sarah Phan and Lyndi Low ('Malediction")
1st Place: Aaron Dunbar, "Hare Tactics: When Free Speech Goes Too Far"
2nd Place: Sarah Phan & Lyndi Low, "Malediction"
3rd Place: Evangeline Fachon & Lindsay Tomasetti, "Static"
2010 Semifinalists

Blanca Barrera & April Dash, "Uncensored and Censored Religion"
Lizzie Boone, Kya Gibson, & Christian Serra, "Censor Yourself"
Aidee Guzman, "Freedom of Speech?"
Moriah Love, Lauren Wirth, Jacob Waddle & Lauren Brunn, "The Censors-Bowl"
Tate Phillip, "Society's Lack of Confidence in Itself"
Zach Redpath & Daniel Nan, "Censorship"
Allison Reed, "I'm All For Free Speech, But…Broadcast Television"
2010 Judges
Jordan Allen

, 2009 YFEP Film Contest 1st Place Winner

Tom Shadyac, filmmaker/screenwriter (including Ace Ventura, Liar Liar, and Evan Almighty)

Cecily von Ziegesar, author of young adult books Gossip Girl

Debra Zimmerman, Executive Director of Women Make Movies, a non-profit NY based film organization which supports women filmmakers

New York Film Academy
For more information: visit contest rules and frequently asked questions. You can also check out this year's promo video and previous years' winners.  Submit your application online here.