From left to right: YFEP Film Contest Winners Patrick Rooks, Caitlin Wolper, Jake Gogats, Summer Lee, and Urban Word NYC Youth Performer Amani Breanna
We appreciate everyone who came out for a fun day of youth-made films at our annual Youth Voices Uncensored screening at the New York Film Academy. In addition to the films that won our contest, we also screened movies from Reel Works and the Global Action Project:
…and we were treated to a spoken word performance from Amani Breanna of Urban Word NYC!
Check back here on Friday, April 13th when we launch our official call for entries for 2012.
---
2011 Contest Results
**Come to Our NYC Film Screening of Youth-Made Media**
Thanks so much to everyone who submitted videos! We are proud of the winners of this year's contest, which will be screened at our Youth Voices Uncensored event at the NY Film Academy in New York City on March 31st!
1pm-4pm
New York Film Academy Screening Room
100 East 17th Street in Manhattan
N, Q, R, W, 4, 5, 6, L Trains to Union Square
Featuring: the winning films from 2011, youth-made films from Reelworks and the Global Action Project, and much more!
1ST PLACE – $1000 Cash Prize and a $5000 Scholarship to the NY Film Academy
By Jake Gogats and Caitlin Wolper
2ND PLACE – $500 Cash Prize
Don't Use Your Rights to Make Wrongs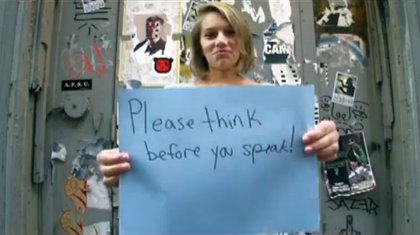 By Summer Lee
3RD PLACE – $250 Cash Prize
Expressing Freedom in 140 words or less


By Patrick Rooks
RUNNERS-UP
Special thanks to this year's volunteer panel of judges!
Aaron Dunbar – 2012 YFEP Film Contest 1st Place Winner
Michael Sandoval – Director of NYFA for the Dalton Program. Writer. Director of short film, The Good Son, screened in competition at Berlin.
Julie Talen – Director, Editor, Producer and Writer. Projects include Pretend, 60 Cameras Against The War and Harriet The Spy
Cecily von Ziegesar – author of young adult books Gossip Girl
2011 Contest Theme
The Internet and Social Media have given young people a voice like never before, but governments, schools and corporations are imposing more and more restrictions on what youth do online. They say it's for the kids' safety, but what about those same kids' First Amendment rights? Do young people really have free speech online and, if so, how do they use or abuse it? Does free speech include access to Free Software and the right to remix videos, music, and images? Should cyberbullying be punished? Express what you see as supporting or threatening your right to free speech in cyberspace!