Were there times you were afraid to speak up?
Do you sometimes wish you spoke your mind more?
Do you wish you censored yourself more?
Have you changed what you've written for fear it would get you into trouble?
In your art, music, writing, or filmmaking do you ever stop yourself from doing what you want because you are afraid that people might misunderstand?
Have you ever stopped yourself from saying something because you thought it might be rude or insulting?  Are you glad you stopped yourself?
Exposing the Censor Within was an interactive public installation conceived by Svetlana Mintcheva, NCAC Director of Programs, and realized in cooperation with Montalvo Arts Center.
Exposing the Censor Within was a traveling installation that invited people to enter a "confessional" booth and write their story about self-censorship on an index card. The (anonymous) cards were then processed into site specific poster-portraits of self-censorship. Exposing the Censor Within opened in Redwood City, CA on March 2, 2007 and then traveled to the Montalvo Arts Center and the College Art Association 2008 Annual Conference in Dallas, TX. It continued to travel and was now available  in Second Life.
Self-censorship is far more effective in suppressing speech than external censorship, yet, few would go on record confessing a decision to silence themselves. By guaranteeing the anonymity of the confessors, who might not want to share their stories publicly, Exposing the Censor Within sought to expose the extent to which we censor ourselves – in everyday life encounters with family, teachers, friends and colleagues as well as in our creative lives as writers, journalists, curators, painters, filmmakers or musicians.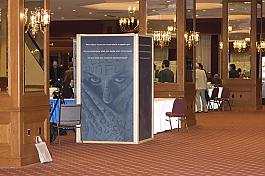 2008 College Art Association Annual Conference, Dallas, TX
Redwood City Library, CA, March 2007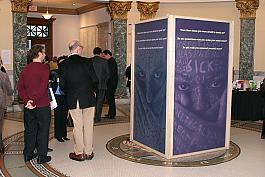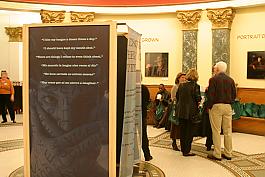 San Mateo County History Museum, CA, April 2007