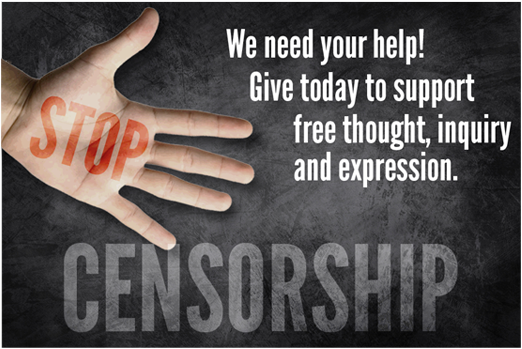 Your generous gift helps the National Coalition Against Censorship, a 501(c)(3) nonprofit organization, fight for First Amendment principles and free speech rights in cities and towns all over the country.
"Censorship happens often when you least expect it. My life has been changed by the NCAC, an enormously effective organization."
Donate to NCAC
To sign up for recurring donations or to make a one-time contribution by phone, please call 212.807.6222.
You can also mail your check directly to:
National Coalition Against Censorship
19 Fulton Street, Suite 407
New York, NY 10038
Planned Giving | Gifts of Stock | In-Kind Contributions | Online Store
---
Your contribution is fully tax-deductible. On behalf of the students, teachers, artists, authors, librarians, curators and tech innovators for whom NCAC fights every day, we THANK YOU!