Issue 104, Spring 2007
NCAC Files Brief in Support of Student Speech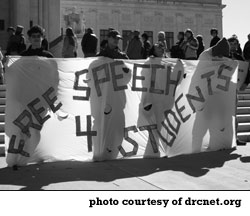 For the first time in nearly 20 years, the Supreme Court is poised to address the free speech rights of students. The Court is considering a case, Morse v. Frederick, involving a high school senior from Juneau, Alaska, who was suspended for displaying a banner that his principal did not approve of.
In January 2002, as the Olympic torch relay passed through Juneau, Joseph Frederick and some of his friends stood on a public street with a banner that read "Bong Hits 4 Jesus." Students had been let out of school to watch the parade. Frederick and his friends were standing off school grounds along the parade route when the principal, Deborah Morse, crossed the street and demanded that they take down the sign. Frederick refused, asserting his free speech rights. He was suspended on the ground that the banner violated the school's anti-drug policies.
In an amicus brief submitted to the Supreme Court, NCAC – along with the American Booksellers Foundation for Free Expression – urged the Court to apply full First Amendment protection to speech made by students occurring off school grounds and not connected to a school event.
While Frederick said the message of his banner was a joke intended to grab the attention of passing TV cameras, there's nothing funny about the potentially far-reaching implications of the Court's decision in this case. Principal Morse and the Juneau School Board argue that school officials may censor students like Frederick when they deem student speech to contradict the school's "educational mission." However, a Court ruling in favor of this broad assertion has the potential to muzzle not only drug-related messages, but political and religious opinions, as well. Such heavy-handed restriction of student expression is unprecedented and has the dangerous potential to make schools safe spaces for certain opinions while others are suppressed in the name of protecting the school's "educational mission."
The U.S. Department of Justice weighed in on the side of school officials, citing its support for anti-drug policies. However, a dozen friend-of-the-court briefs were filed on Frederick's behalf, representing groups as divergent as the Christian Legal Society and Lambda Legal. Most express concern about allowing school officials to stifle or penalize views they disagree with, from religious speech to advocacy of gay rights. This is where the real significance of the case lies.
Frederick denies that his "Bong Hits 4 Jesus" banner was intended to promote drug use. In his view, he was making a statement about free speech itself. In our view, students not only do not "shed their constitutional rights to freedom of speech or expression at the schoolhouse gate," as the Court held in Tinker v. Des Moines (1969). Students also do not, simply because they're students, surrender their constitutional rights as citizens to speak freely in public places.