September 25 – October 2, 2010
Banned Books Week is the only national celebration of the freedom to read. It was launched in 1982 in response to a sudden surge in the number of challenges to books in schools, bookstores and libraries. More than a thousand books have been challenged since 1982.

View Book Bans and Challenges, 2007-2010 in a larger map

During the last week of September every year, hundreds of libraries and bookstores around the country draw attention to the problem of censorship by mounting displays of challenged books and hosting a variety of events. The 2010 celebration of Banned Books Week will be held from September 25 through October 2. Click here to see the 2009 Banned Books Week Manifesto.
Please click on the images for a full view of the infographics.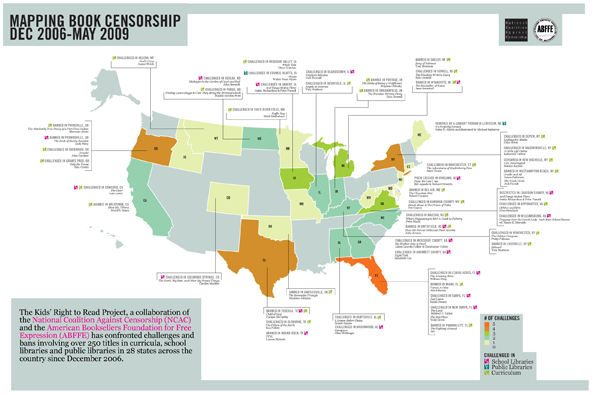 » The official site
bannedbooksweek.org

» Dealing with book censorship
Book Censorship Toolkit

» Organize against censorship
How to Create a Local Coalition
» "From the Trenches"
NCAC Executive Director on Book Censorship in 2008
» Extensive Banned Books Week Resources from NCAC Participating Organization American Library Association
Celebrating the Freedom to Read
» From the author's mouth
Young adult author John Green on the censorship of his book, Looking for Alaska

Banned Books Week is sponsored by the American Library Association, the American Booksellers Foundation for Free Expression, the Association of American Publishers, the American Society of Journalists and Authors, and the National Association of College Stores. Banned Books Week is also endorsed by the Center for the Book of the Library of Congress.