Trump Aims to Sue Journalists "Like You've Never Got Sued Before"

Right Wing Watch reports Republican presidential frontrunner Donald Trump fired up supporters at a rally with a call to undo the First Amendment:
"One of the things I'm going to do if I win, and I hope I do and we're certainly leading, is I'm going to open up our libel laws so when they write purposefully negative and horrible and false articles, we can sue them and win lots of money," Trump said. "We're going to open up those libel laws."

"With me, they're not protected," he said of media companies. "We're going to have people sue you like you've never got sued before."
Apple vs. FBI

ACLU staff attorney Alex Abdo explains what is at stake in the high profile stand off between the tech giant and the FBI:
If Apple and other tech companies—whose devices we all rely upon to store incredibly private information—can be forced to hack into their customers' devices, then it's hard to imagine how any company could actually offer its consumers a secure product. And once a company has been forced to build a backdoor into its products, there's no way to ensure that it's only used by our government, as opposed to repressive regimes, cybercriminals or industrial spies.
And in the New York Times, Washington University School of Law professor Neil Richards says
If we care about free expression, we have to care about the ways in which we come up with interesting things to say in the first place… And if we are always monitored, always watched, always recorded, we're going to be much more reluctant to experiment with controversial, eccentric, weird, 'deviant' ideas — and most of the ideas that we care about deeply were once highly controversial.
Students Traumatized by Scalia Criticism?

The Intercept's Glenn Greenwald writes about a peculiar dispute at the Georgetown Law School, where professors objected to a colleague's criticism of Anontin Scalia by arguing that his comments "traumatized" conservative students: "Civil discourse at Georgetown has suffered a grievous blow."
Student Artwork Offends Parent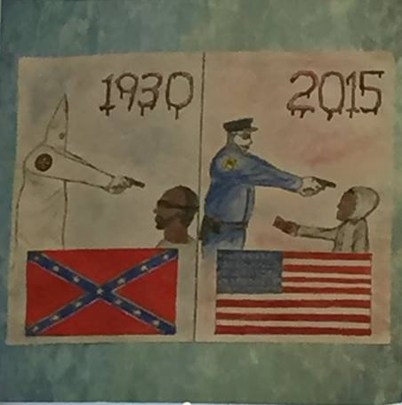 A Kentucky high school student's artwork has some parents upset, with one complaining that it is "propaganda" that will create "future cop haters." Despite his protests, the school seems to be standing up for student expression
Oldham County Schools spokeswoman Tracy Green told WDRB on Wednesday morning that the student work on display that has been called into question is in response to an assignment about racial injustice and is a piece by a student from a previous year's class.

When discussing social injustice, people will likely be offended by some topic," Green said. "The drawing is a student's artistic representation based on the lens through which the student viewed that issue and the student has a First Amendment right to share that opinion."
Where Are Your Guts?" Johnny Cash's Censorship Fight

ACLU Senior Staff Attorney Stephen Pevar spoke to the director of "Johnny Cash's Bitter Tears," a new documentary about an album the country icon recorded about Native Americans that encountered stiff resistance and "soft censorship" when it was released in 1964
While Columbia honored the contract to ship a minimal amount of records for sale, they undertook a type of "soft censorship" where they did no promotion and just ignored its existence. And of course, many radio stations just refused to play it. When Cash learned of all the opposition, he made it his mission to get the record out there. He bought back thousands of copies of the record, penned a protest letter that he placed as an ad in "Billboard" magazine, stuffed the letter inside each record, and traveled around the country hand delivering the record to radio stations and asking them to give it a chance. A line from the opening paragraph from the letter says it all: "DJs, station managers, owners, etc., where are your guts?"
Steinem Spiked at Lands End

The Lands' End clothing company featured an interview with feminist activist and writer Gloria Steinem on its website– that is, until people started protesting. The feature "didn't sit well with anti-abortion activists, who became enraged that the company would feature a woman who spent much of her life fighting for reproductive rights." So the company apologized.
We greatly respect and appreciate the passion people have for our brand," a spokeswoman told The Huffington Post in a statement. "It was never our intention to raise a divisive political or religious issue, so when some of our customers saw a recent promotion that way, we heard them. We sincerely apologize for any offense."