Painting by Nicole Touchet [via]
UPDATE April 7, 2016: NCAC has posted a Statement: Shameless in Lafayette: Nude ArtWalk !
Metairie born artist Nicole Touchet launched Galerie Touchet  in downtown Lafayette to showcase the work of emerging local artists, including herself. A 26-year-old graduate of the University of Louisiana Fine Arts Program, she has run her eponymous gallery out of a small rented space in Gordon Square for about a year. Now that her lease is up, it looks like she has little reason to stay.
For the annual March ArtWalk, Touchet mounted a solo exhibition of her own paintings: large-scale nude self-portraits. Soon after the show opened, she received an email from Property One, Inc., the building's management, demanding that she remove her work: "You have to take down the nude pictures you have in your gallery. Part of the agreement to rent you the space was to not display nude pictures."
The email cites Condition No.5 in the lease Touchet signed with Property One:
Lessee warrants and represents to Lessor that the Leased Premises exclusive of common area shall be continually used and occupied only for the purpose of general office use. Lessee shall conduct its business and control its agents, employees, invitees and visitors in such a manner as is lawful, reputable and will not cause any nuisance or otherwise interfere with, annoy or disturb any other tenant in its normal business operations or Lessor in its management of the Building. Lessee shall not commit or suffer to be committed, any waste on the Leased Premises, nor shall Lessee permit the Leased Premises to be used in any way which would, in the opinion of Lessor, be hazardous on account of fire or otherwise which would in any way increase or render void the fire insurance on the Leased Premises or Building.
No mention is made of nudity, pornography or "harmful to minors" standards. But even if there was a stipulation about community standards or obscenity, one would have to point out that nudes in art, and even in porn, are protected by the First Amendment. The nude, after all, has been central to art for centuries, and obscene materials, by definition, lack any true social, political or artistic value.
In her own defense, Touchet says: "This work is not pornographic. Would you come out, look at these paintings and say this is completely out of line, inappropriate in any way? I would never show any work of mine or anyone else's that would be anywhere close to [pornography], so it was a slap in the face to my morals and my values, basically."
Instead of removing her work, Touchet covered the supposedly offending bits with cut-out newspaper bikinis. She then posted a sign on the front window: "Censored by Management."
According to our sources, the artist may relocate to New Orleans, where she will undoubtedly be busy in her studio as well as with future curatorial projects that may include freeing the nipple. We look forward to seeing more.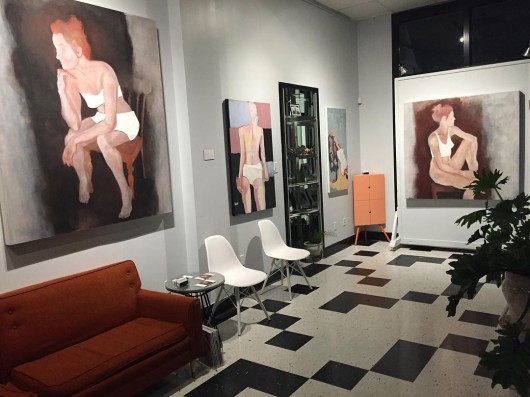 Photos are from the artist's Instagram feed.
More images and info here:
INDReporter, April 1, 2016: Lafayette artist ordered to cover nudes, by Walter Pierce