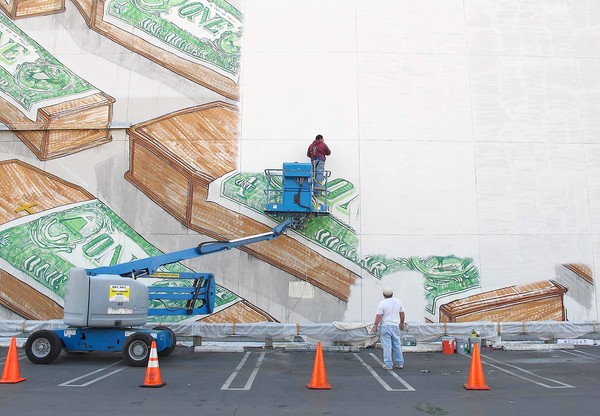 A mural announcing LA MOCA's upcoming Art in the Streets exhibition, a survey of street art over the past four decades, was painted over – upon orders from the Museum – shortly after it appeared on December 8th. Was this an act of censorship or an exercise of legitimate curatorial control? The answer may depend on your definition of both terms.
Here are the undisputed facts: Italian street artist Blu was commissioned by LA MOCA to paint a mural on one of the walls of the museum's building. Work on the mural, which depicted coffins draped in American one-dollar bills (referring to the familiar image of flag-covered coffins of soldiers killed in war), commenced December 8th, Wednesday. By midday Thursday, the museum had painted over the work.
As reported by the LA Times, "once MOCA director Jeffrey Deitch, who was in Miami for an annual art fair, returned home and saw Blu's handiwork, he said no. Deitch later explained that he made the decision to remove the mural very quickly, unprompted by complaints…"
After several days silence, the Museum issued an official statement, explaining that the decision to paint over the mural was made because:
The Geffen Contemporary building is located on a special, historic site. Directly in front of the north wall is the Go For Broke monument, which commemorates the heroic roles of Japanese American soldiers, who served in Europe and the Pacific during World War II, and opposite the wall is the LA Veterans' Affairs Hospital. The museum's director explained to Blu that in this context, where MOCA is a guest among this historic Japanese American community, the work was inappropriate. MOCA has invited Blu to return to Los Angeles to paint another mural.
Blu has refused to return to paint another mural stating:
It is censorship that almost turned into self-censorship when they asked me to openly agree with their decision to erase the wall. In the Soviet Union they were calling it 'self-criticism.
Coming almost simultaneously with the scandal over the removal of David Wojnarowicz's Fire in My Belly from the National Portrait Gallery, the incident has received far less attention – a large part of the arts community appears to support Deitch in his one-man decision about the appropriateness of the mural.
So, back to our question: Was this an act of censorship or an exercise of legitimate curatorial control?
First off, this is a private museum receiving no government pressure (to our knowledge) so First Amendment rights are not concerned the way they were in the National Portrait Gallery case.
Still, if we define censorship as suppression of speech or ideas considered disagreeable, offensive or otherwise objectionable, this is, indeed, censorship.
So, the answer is, yes, LA MOCA has censored its Art in the Streets exhibition, even before the show has opened – not great advertising for a show on an art form that is notoriously political, provocative and unfriendly to the rules of polite behavior.
Public art is frequently subject to controversy especially when it concerns political subjects and does not just celebrate community or decorate a wall. A political statement writ large is sure to offend those who disagree with it whether a memorial is close to it or not. A museum can make the decision to show safe art in public and reserve it's riskier gestures for its galleries (or avoid them altogether). But when planning a groundbreaking street art show, is that a good idea?
The relative silence around the removal of Blu's work begs the question: have we reached a point where the consensus is that strong political statements should be avoided and where the potential that a war veteran may possibly be bothered by the idea that US soldiers are sent to die for economic interests is reason enough to whitewash an artwork? Are we no longer allowed to be angry? If not, why the rush of Wojnarowicz supporters to insist that Fire in my Belly is not an attack on Catholics? And what if it were, would it merit less support? (Wojnarowicz has many works that directly express his rather unrestrained anger at the Catholic church)
The removal of Blu's mural and the silence around it sound a sinister note of the existence of quiet and insidious (self-)censorship: a type of censorship much harder to oppose than the heavy-handed bullying of right-wing Republicans and religious extremists.