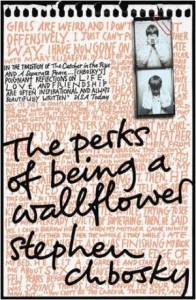 Update 12/2/2016: The review committee, in a 10-0 decision, has voted in favor of keeping The Perks of Being a Wallflower in Dubuque school curriculums. KWWL reports that at the meeting, over 40 participants stood up and spoke about their personal connection to the book. When the parent who filed for the review, Jodi Lockwood, spoke she asked to rescind her request.
Original post:
The National Coalition Against Censorship has written to a school district in Dubuque, Iowa in defense of Stephen Chbosky's oft-challenged novel The Perks of Being a Wallflower. The letter to Dubuque Community Schools responds to a group of local parents who cited the book's "graphic sex scenes" and descriptions of teenage drug to issue a formal complaint calling for the book's removal from Hempstead High School. The letter recommends the review committee vote in favor of keeping the book.
As the letter notes, Dubuque Community Schools' policy states that the "sole criterion" for determining whether a book should be removed "is the appropriateness of the materials for its [sic] intended educational use." The Perks of Being a Wallflower has frequently been lauded for its literary merit and exploration of themes of relevance to teenagers, for example: love, bullying, depression, and the stress of applying to college. Given it's accessibility and relevance to teenage lives issues, the book is clearly appropriate for high school readers.
The letter continues that the mere presence of "graphic sex scenes" cannot justify the removal of a book from schools. Indeed, on these grounds, countless great works of literature, including many of Shakespeare's plays, would also be deemed inappropriate.
The letter concludes by warning the Dubuque Community Schools that removal of The Perks of Being a Wallflower will set a harmful precedent that will encourage parents to demand the removal of other books. This will further burden review committees and will encourage teachers to avoid selecting potentially controversial materials, harming students education in the process.
The letter is co-signed by the Comic Book Legal Defense Fund, the National Council of Teachers of English, American Booksellers for Free Expression, Association of American Publishers, Authors Guild, ​American Society of Journalists and Authors and PEN America.
Read the full letter below; click here for a full screen view.