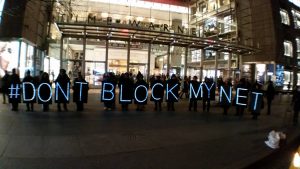 On July 12, 2017, NCAC, several other websites and organizations, Internet users, and online communities are coming together to sound the alarm about the Federal Communications Commission's (FCC) attack on net neutrality. It's shaping up to be one of the largest internet mobilizations of all time.
Learn how you can join the protest and spread the word at https://www.battleforthenet.com/july12/.
If you're reading this, chances are you're somehow plugged into the open web. This is the principle of net neutrality: the idea, in essence, that all web traffic is equal, so no organization or corporation should be able to pay extra for faster connection speeds to their sites or services. Ending net neutrality would allow powerful internet service providers (ISPs), such as AT&T, Comcast, and Verizon, to cripple competition from smaller competitors by making their services virtually unusable due to their slower connection speeds. In a worst-case scenario, it would also enable ISPs to curtail access to websites containing inconvenient information about themselves or their practices. NCAC has previously hypothesized that this amounts to a shutting down of free speech on the web.
It is for these reasons that NCAC, along with a range of public interest groups, plus major websites like Amazon, Etsy, Kickstarter, and Reddit, is partaking in the July 12 Day of Action to save net neutrality. Also known as the "Battle For The Net," it has been prompted by former Verizon lawyer-turned FCC Chairman Ajit Pai's plan to attack the open web.
The FCC's proposal curbs what it considers "heavy handed" regulation. While purporting to 'Restore Internet Freedom,' Pai suggests a "light-touch regulatory framework" that could easily lead to discrimination against some of your favorite websites. By removing the current regulations and restoring "market-based policies," it is easy to imagine how ISPs would give preferential treatment to content that maximizes their own profits and serves the interests of their stockholders. This unchecked control means that private companies would dictate our options for what we can choose to do online.
As a far-reaching platform spanning across countries and cultures, the internet has been pivotal to free expression since its inception. Fundamentally, it is an approachable space where people can interact with content and applications on a level playing field. Without meddling from Big Cable, Internet users have been able to engage in unbounded exchanges of ideas, a central tenet of the First Amendment.
Netizens, we ask you to stand together with NCAC and dozens of other organizations as proponents of an equal internet. Look out for a widget on our website and many others on July 12th that will enable you to contact the FCC and Congress to show your support of net neutrality.