The Twelve Days of Censorship
This post is part of our Twelve Days of Censorship series, reporting the gifts of the Ghosts of Censors Past and Present in honor of the holiday season. 
On the First Day of Censorship, the Censors Gave to Me… no art in Newark Public Library.
The Newark Public Library is doing their wrapping a little early this holiday season. This past week, the library wrapped a drawing by renowned, provocative artist and Columbia University Professor Kara Walker in zebra paper because it offended library staff.
The work–like much of Walker's ouvre– is a commentary on some tough subjects: racial tensions in America, Jim Crow, the reconstruction in the south after the Civil War, the Ku Klux Klan. It's a melee of images that appear to be drawn in charcoal, giving a windswept, dusty, chaotic effect. What offended most of all, however, was the part of the drawing which depicts a white man (forcibly?) getting a blow job from a black figure.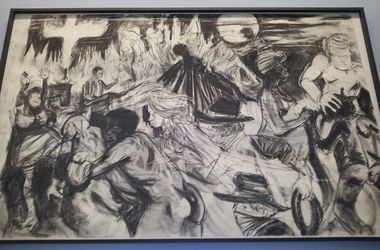 The piece is certainly not the first provocative work to stoke controversy in libraries, begging questions of context and censorship (see here and here and here and here and oh yeah, here). Walker's work can be divisive, but she has also been widely praised for not backing away from showing ugly and frightening aspects of humanity and history.
Walker aptly commented in the The Star-Ledger report: 
"I am sorry that the staff is so put off by the work that they feel the need to prevent others from seeing it and making their own call to look or look away," she said. "I don't advocate any kind of censorship. The promise of any artwork is that it can hold us, viewer and maker, in a conflicted or contestable space, without real world injury or loss."
Libraries are where you go to confront new ideas and open your mind, aren't they? What do you think?