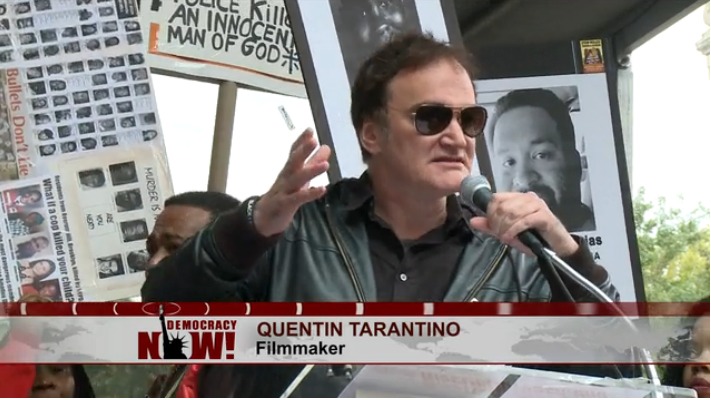 Filmmaker Quentin Tarantino exercised his First Amendment rights by speaking at a New York City protest against police brutality. At the October 24 event, he denounced "police terror," and reportedly said this: "I have to call a murder a murder, and I have to call the murderers the murderers."
In response, Patrick Lynch, the head of New York's Patrolmen's Benevolent Association union, called Tarantino a "cop-hater" and said that it was "time for a boycott of Quentin Tarantino's films." A union affiliated with the Los Angeles Police Department has reportedly endorsed the boycott as well.
The union has as much as right to disagree with Tarantino's speech as the filmmaker has to denounce police brutality. But one would hope that police officials would take care not to ignore the constitutional rights of people with whom they disagree. Lynch's statement says that Tarantino "has no business coming to our city" to express himself. He most certainly does have such rights. That a law enforcement official would suggest otherwise sends a very disturbing message that is antithetical to basic free speech principles. Indeed, in light of the police department's unfortunate history of violating the rights of peaceful protesters, Lynch would do well to remind officers of their obligation to respect the legal rights of even those with whom they disagree.