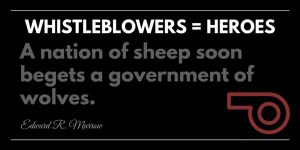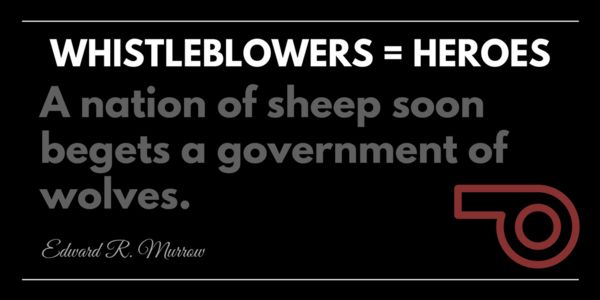 UPDATE 7/27/2017: 
NCAC has signed on to an open letter to the Trump administration and Congress to see through to the finish line the Whistleblower Protection Enhancement Act (WPEA) of 2012, an ongoing 13-year effort to back those courageous enough to speak out about malfeasance in the government.
Please sign the petition to signal your support for transparency in government, which is made possible when employees are able to say something when they see something without fear of repercussions. Our support makes preventing whistleblowers from being intimidated into silence possible.
Catch up on the demands in the letter in the post below.
Original post:
The Make It Safe Campaign & Coalition (MISC), a network of 77 organizations committed to protecting individuals employed in jobs that serve and warn the public, has launched an online petition to urge members of Congress to complete and strengthen legislation protecting government whistleblowers' rights. The petition focuses on the legal rights of whistle blowers, demanding adequate protections to ensure they receive a fair trial in any subsequent court action taken against them.
You can sign the petition here.
NCAC has previously written in support of whistleblowing protections. In 2008, NCAC joined with the Union of Concerned Scientists to demand scientists be included in a pending whistleblower bill. In 2011, we criticized the Obama administration's response to Wikileaks, which increased efforts to punish government officials accused of leaking classified information to the media.
The Make it Safe petition relates to the Whistleblower Protection Enhancement Act (WPEA), passed in 2012, which was the fourth unanimous congressional mandate for whistleblower rights since 1978. The concern is that the WPEA does nothing to enforce the free speech rights of whistleblowers in any legal retaliation that comes as a result of their actions. Read about the gaps in the current WPEA here. 
On this basis, the petition asks that Congress bolster the current WPEA with the following suggestions:
·         Grant employees the right to a jury trial in federal court;

·         Give whistleblowers the right to challenge retaliatory investigations;

·         Extend employment anti-retaliation rights to shield against all criminal and civil liability;

·         Extend temporary relief to whistleblowers whenever they prove a prima facie case of retaliation;

·         Make permanent normal access to appeals court for whistleblowers to challenge MSPB decisions;

·         Make permanent the WPEA pilot program for each Office of Inspector General (OIG) to have a whistleblower ombudsman;

·         Make sensitive job designations a personnel action to lock in protection against retaliation;

·         Require accountability through discipline to prevent unjust retaliation on whistleblowers;

·         Fully protect whistleblower disclosures even before an application for federal employment;

·         Shield employees by allowing them to refuse to violate illegal regulations; and

·         Grant the Office of Special Counsel the authority to issue a stay, without MSPB Board approval
Whistleblowers play an invaluable role in any democratic society. As the petition states, "Whistleblowing has helped keep presidents accountable, stopped rampant corruption in police forces, prevented nuclear disasters, illuminated shocking health violations, and much more." It is imperative that the judicial system give government employees who leak information of importance to the public a fair day in court.
The demands of the petition are particularly salient at a time hazardous to would-be whistleblowers. President Trump, dismayed by leaks of sensitive information about his administration to the press, has vowed to clamp down on whistleblowers in Washington.
Leaking, and even illegal classified leaking, has been a big problem in Washington for years. Failing @nytimes (and others) must apologize!

— Donald J. Trump (@realDonaldTrump) February 16, 2017
Sign the petition and demand Congress and President Trump protect whistleblower's free speech rights.