The Executive Director of the Springfield Business Improvement District (SBID) in Massachusetts has issued a formal apology for painting over the underside of a resident artists' artwork. Robert Markey was asked to paint a "sneaker" for the "Art and Soles" project – giant sneakers covered the town in hopes to illustrate "what makes Springfield great."  He painted his "sneaker" with dancers of all kinds; the sole of the shoe depicted a non-nude pole dancer. When it was installed, leaders of the organization painted over the pole dancer with black paint without contacting Mr. Markey in advance because, according to Springfield Arts Initiative's Gina Beavers, "there just wasn't time."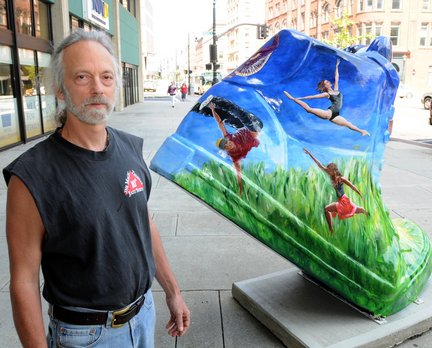 Mr. Markey released the following statement about the incident:
I was told that the pole dancer painted on the bottom did not answer the question "what makes Springfield great?" If you look at the other sneakers, this is a bit absurd. Elephants make Springfield great? Spider webs make Springfield great? Gina herself told me a few weeks ago that many of the designs were not specifically about Springfield .

My sneaker was defaced because the pole dancer referred to strip clubs which Gina feels are a blight on Springfield. Actually for many, it is the strip clubs (which add quite a few dollars to the Springfield economy), that attracts them to Springfield. Are the patrons of these clubs not to be included in our public art audience?

…  A public art painting of a pole dancer honors these women as the paintings of the other dancers honor them.  The painting was not meant to be political, but in Springfield there is a class action lawsuit brought by the exotic dancers in the strip clubs against the owners who have been treating them unfairly for years. Is there a problem honoring these women? If they win their lawsuit, perhaps it will be a precedent for similar lawsuits in other cities and states. That would indeed be a thing that makes Springfield great.

There is a movement to bring more art into Springfield. To begin that process by destroying, defacing or censoring an artist's work is outrageous. If a work of art is indeed controversial, then use it to discuss and understand the issue. …
SBID's Executive Director Donald A. Courtemanche admitted the organization had made a mistake, noting,
It's a fair question to ask how a group of people who believe in the power of art and in the importance of art to the revitalization of Springfield could make such an error.
UPDATE: Since the incident, Courtemanche has promised to bring all the invited artists together to discuss what happened, inspiring a community discussion. "I feel that a lot of communication took place and the result hopefully will be a better understanding of the whole issue," Markey tells NCAC. "So I think the sneaker turned out to be a much more profound work of art than I had planned."