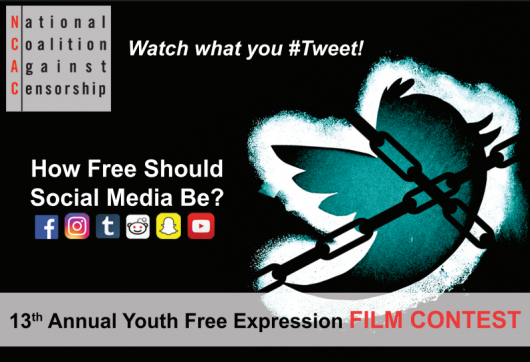 NCAC is delighted to announce our three winners of our 2016 Youth Free Expression Film Contest. The results of the contest were extremely close, with only a few points separating third, fourth, fifth, and sixth places. The no. 1 entry will receive a $1,000 cash prize.
We would also like to extend a huge thank you to our wonderful panel of guest judges, who generously donated their time in evaluating our films. Our judges were:
Kathy Brew, Guest Curator of the Museum of Modern Art's annual documentary festival
Catherine Rampell, Opinion Writer for the Washington Post who frequently writes about free speech
Angelique Pineda, Winner of NCAC's 12th Annual Film Contest
Ed Winkleman, Co-Founder of Moving Image: an art fair featuring moving-image based artwork such as film, video, and virtual reality.
Results:
Our first-place winner is Piay Mayalorca of Radford, Virginia, for her film Censored.
Our second-place winner is Jason Lanuevo of Ewa Beach, Hawaii, for his film Blindfold.
Our third-place winner is Preeya Dave, of North Brunswick, New Jersey, for her film With All Due Respected, Detective.
https://www.youtube.com/watch?v=Uanzuy6bjCY
NCAC would like to congratulate our winners and thank all of our finalists and filmmakers for their interest in our 13th Annual YFEP Film Contest!
Please stay tuned for the announcement of the People's Choice winner as we tally the votes in our poll.