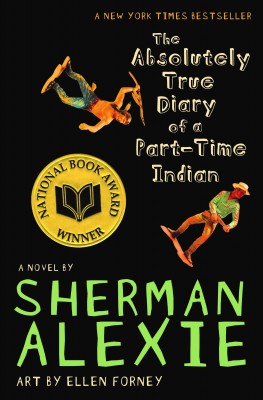 New York, NY, 10/24/2017- UPDATE: Alton High School has restored Sherman Alexie's The Absolutely True Diary of a Part-Time Indian to its 10th grade curriculum, following a review committee meeting at the school. The book was temporarily pulled from instruction after a parent objected to its contents and requested an alternate assignment for their child. Alton district policy prohibits school officials from removing challenged books before the committee has had a chance to review them. In future, teachers in the district will seek first to resolve parental book challenges by offering alternative texts, rather than removing challenged books. Meanwhile, Alton's current 10th grade students will benefit from the continued teaching of this National Book Award-winning novel.
New York, NY, 10/16/2017- The National Coalition Against Censorship (NCAC) and eight other organizations committed to defending the right to read are urging an Illinois high school to restore Sherman Alexie's The Absolutely True Diary of a Part-Time Indian to its 10th grade curriculum.  The book was removed from the reading list at Alton High School after a parent lodged a complaint over its explicit language but before a district committee could meet to review the complaint and issue a recommendation on the book's future.
The groups argue the decision to immediately stop teaching the book in response to a single complaint imposes a "heckler's veto" on the curriculum and deprives all students of their First Amendment right to read a pedagogically valuable, National Book Award-winning novel.
The groups urge the school to clarify its review policies and hope the review committee recommends the book be kept in Alton High School classrooms when it meets on Thursday, October 19.
The letter is signed by NCAC, Comic Book Legal Defense Fund, National Council of Teachers of English, American Booksellers for Free Expression, Association of American Publishers, Authors Guild, Society of Children's Books Writers and Illustrators, PEN America Children's Writers and Illustrators and Young Adult Books Committee and the American Library Association.
Read the statement below; click here for a full screen view.