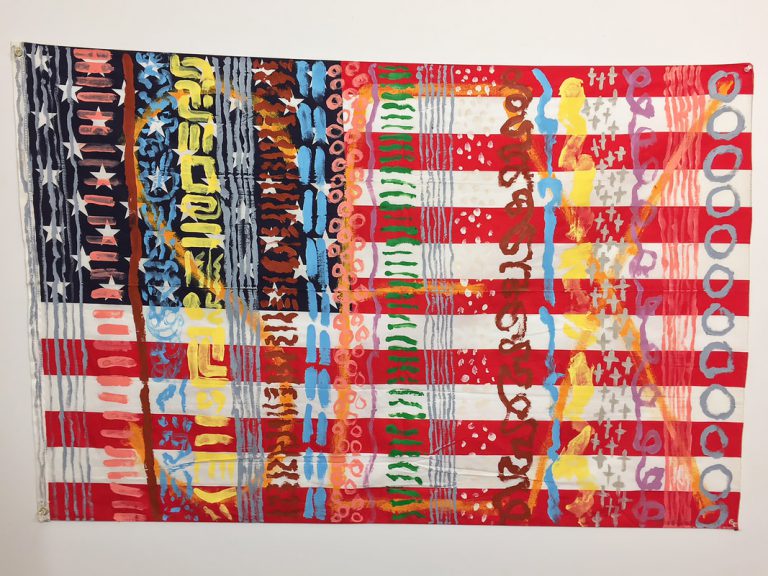 UPDATE 4/20/18: The Belskie Museum of Art & Science reversed its decision and will reinstate the five artworks by Renny Molenaar it had previously removed from their current exhibition.
NCAC thanked the museum's Board of Directors for reversing their decision, noting that in our diverse society it is inevitable for some viewers (including staff and/or museum board members) to find the ideas expressed in some artworks disagreeable or even offensive. NCAC also offered the museum its resource, Museum Best Practices for Managing Controversy, which includes strategies for preventing or defusing potentially volatile situations, and encourages museums to address sensitive issues of civic engagement to help fulfill their mission as forums for the exploration of diverse ideas.
(For more details, see the article in ARTnews: 'After Further Thought We Have Reconsidered': New Jersey Museum Pulls Works Featuring U.S. Flags, Then Reverses Decision, 4/19/18)
Original Post (4/18/18):
The Belskie Museum of Art & Science in northern New Jersey has ejected an invited artist from its exhibit, AMERICAN DREAM: The Latino Experience in America, citing a legal principle ruled unconstitutional in 1990. 
Philadelphia-based artist Renny Molenaar was invited to participate in the group exhibition featuring works of contemporary art created by immigrants and first-generation American citizens who are part of the Latin American diaspora by guest curator Dora Espinoza. The museum approved five paintings from Molenaar's Disappointing Patriotic Sex Paintings series. Two days prior to the exhibit's opening, the board ejected Mr. Molenaar's paintings from the show because they incorporate actual US flags, explaining to him in an unsigned email:
When your work was presented to our museum, it was a picture, which we assumed was a painting of a U.S. flag and not painting on an actual flag. Painting or drawing on an actual U.S. flag is contrary to The United States Flag Code (see U.S. Code, Title 18, Part 1, Chapter 33). Section 8 (g) states the following:
The flag should never have placed upon it , nor on any part of it, nor attached to it any mark, insignia, letter, word, figure, design, picture, or drawing of any nature".
Incorporating US flags in an artwork is, in fact, protected free speech that enjoys full protection under the US Constitution. The US Flag Code was ruled unconstitutional in United States v. Eichman, 496 U.S. 310 (1990). The Supreme Court struck down The Flag Protection Act, ruling it a violation of free speech under the First Amendment. 
According to Joy Garnett, NCAC's Arts Advocacy Program Associate, "as a cultural institution, the Belskie Museum bears a responsibility to enhance and enrich the intellectual and cultural life of its community. Part of this responsibility includes understanding the context of the works it puts on display, and the relationships of trust it garners with artists, curators and the public alike." 
Molenaar's paintings were created in response to the current political climate; his decision to accept the invitation to the exhibition was itself made in response to the urgent plight of immigrants and deportees. Of the museum board's censorship, he stated: "This kind of behavior haunts our memories and our imaginations… it is an assault on our every right to express ourselves. The irony isn't only in the title of the exhibition, but that the work is political, […] as it concerns sex, art and censorship itself."
NCAC is strongly urging the Belskie's Board of Directors to weigh the implications of censoring works based on the discomfort of some viewers. We request that the museum immediately restore these paintings and issue a public apology to the artist.
The flags used in creating the series cost $1.99 and were made in China.
NCAC's full letter to the Belskie Museum of Art Board of Directors can be read below. Click here for a full screen view: