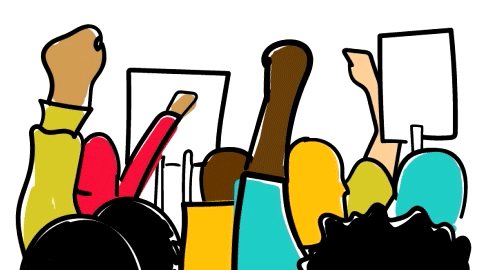 The National Coalition Against Censorship continues its support of student-led protests by extending the deadline for its protest-themed film contest to May 15th. This year's contest invites aspiring teen filmmakers to create short films on the value of protest as an instrument of social change.
In the weeks leading up to the March for Our Lives and National School Walkouts against gun violence, NCAC has encouraged student participation and published a comic-illustrated guide on Teen Vogue to educate student protesters of their First Amendment rights. By extending the deadline, NCAC hopes to further inspire more students to express their views on protests like the walkouts through film.
The film contest is again co-sponsored by the New York Film Academy (NYFA) and offers winners the opportunity to attend a NYFA unique short-term filmmaking program – either adult or teen, depending on age — on a special NYFA- NCAC scholarship.
Andrea Swift, acclaimed filmmaker and Chair of NYFA's Documentary Film Department, will lead the judging panel. The panel will include award-winning filmmakers MK Asante, Leora Kahn, Jonathan Whittaker, and Piay Mayalorca.
###
Meet the Judges
MK Asante is a best-selling author, filmmaker, recording artist, and a tenured professor of English and Film at Morgan State University. Called "one of America's best storytellers," his memoir Buck is being adapted into a major motion picture after earning a spot on the Washington Post Bestseller List for two consecutive years and winning numerous literary awards. As a recording artist, MK Asante is featured on the album Indie 500, by Grammy-winning producer 9th Wonder & Talib Kweli.
Leora Kahn is the founder and Executive Director of PROOF: Media for Social Justice, an organization that uses visual storytelling and education to inspire action on human rights and create attitude and policy change.  Also an acclaimed author and film producer, Kahn's film credits include two award-winning documentaries: Rene and I, about the life of a Holocaust survivor who was experimented on by Josef Mengele and Original Intent, which explores the judicial philosophy promoted by Supreme Court Justices Antonin Scalia and Clarence Thomas. Kahn has over 25 years of experience as a photo editor with publications such as Time, New York Times Magazine, Rolling Stone and The New Yorker. She has also curated numerous exhibitions on human rights issues, including one for the UN's Office on Children and Armed Conflict that continues to travel worldwide, and which has an accompanying book, Child Soldiers.
Co-Chair of Filmmaking and the Virtual Reality Department at NYFA, Jonathan Whittaker is both an educator and media production professional.  Currently on the roster at Whiteboard Pictures, a New York based production company, he has produced, directed and lensed features, short films, music videos, live concerts, commercials, TV shows, virtual reality experiences and 3D specials.  His clients and collaborators include Nissan, Sony Pictures, FILM.UA, DirecTV, MiSK, Gillette, Hyundai and Sports Illustrated. When he is not on set, Whittaker lectures on the art of cinematography and the director's craft, as a resident instructor at NYFA NY and in forums such as the venerable Beijing Film Academy, Shanghai Theater Academy and King Saud University (in KSA).
Andrea Swift serves as Founding Chair of the Documentary Department at NYFA. A Cinematic Storyteller with over 20 years experience producing, writing, directing and consulting on Independent Films, Swift has also created content for entities as varied as AMC, History, Nat Geo's educational wing, the Southern Ute Tribe, and the Legal Aid Society, among many others. Swift Executive Produced and Directed the three time Emmy-nominated PBS series, In the Life. Her work has been screened at the United Nations Earth Summit, for members of Congress and at Lincoln Center's New Directors/New Films. Additional honors include numerous festivals, including the Berlin International Film Festival (Best Short Film), a DGA Award and two Telly Awards. In affiliation with NYFA, Swift has also taught special workshops for The Fulbright, The Metropolitan Museum of Art, The Whitney and others.
The four esteemed guest judges will also be joined by Piay Mayalorca, an inspiring young filmmaker whose submission, Censored, won top prize in last year's contest.
###
For more information on contest rules and submission guidelines, please visit https://ncac.org/project/film-contest.