Controversy arose in Hanover County, Virginia, after a parent complained about PRIDE: The Story of Harvey Milk and the Rainbow Flag being read aloud in a second-grade classroom. In response to the complaint, the school's principal wrote to all parents to alert them of the incident and explain that the book had not been pre-vetted as is required for material deemed potentially sensitive. The National Coalition Against Censorship has written to the district in support of the teacher and the book, urging them to keep the book in classrooms and available to students who choose to read it.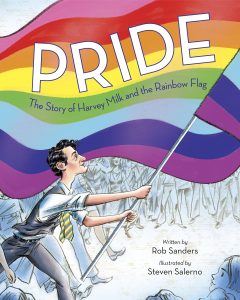 The well-reviewed picture book was read aloud as part of a lesson on civil rights and fighting against bigotry, in support of the district's anti-bullying curriculum.
The district's sensitive material policy requires the school to alert parents to potentially controversial texts and allow them to request alternative assignments for their students. Since the challenge and the principal's letter, many parents in the community have spoken out in support of the book and the teacher. The book's supporters argue that the book, which does not contain references to sex or violence, is a civil rights story and does not merit being labeled sensitive or controversial.
Books that tell LGBTQ stories are disproportionately censored and challenged in schools and libraries. Learn more about NCAC's Uncensored Pride campaign to raise awareness of attacks on LGBTQ voices in educational spaces, educate on the dangers of LGBTQ censorship and empower youth to lead change in their communities and nationally.
Read the full letter to Hanover County Public Schools below.