Banned Books Week is the annual celebration of the freedom to read. NCAC is proud to be a sponsor, along with longtime allies like the American Library Association, Comic Book Legal Defense Fund and the American Booksellers for Free Expression.

This year's theme is young adult literature, so from September 27 to October 3 we'll be talking and reading about what some people don't want young people to be… well, talking and reading about.
Want to get involved? Follow @bannedbooksweek on Twitter or keep up on Facebook.
Long Live Banned Books Week
Some say book censorship isn't even a problem anymore– the good guys won! We don't think it's time to give up the fight for free expression just yet.
Events
There are Banned Books Week events happening across the country. If you're near New York City, come to Housing Works on Tuesday, September 29 for a great discussion, moderated by David Shipler, featuring David Levithan, Meg Medina and Coe Booth.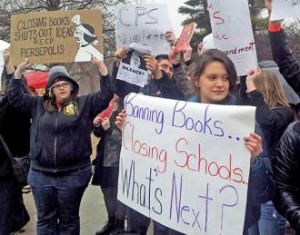 Book Censorship Toolkit
NCAC's handy guide to the ins and outs of book censorship has been updated just in time for Banned Books Week! This resource helps students, teachers and parents defend the freedom to read.
Five True Tales of Book Censorship
'It's 2015, people aren't trying to ban books anymore– are they?!' Yes, people still try to limit what can be read in school classrooms and libraries. We've gathered five all-too-true tales from the field this year.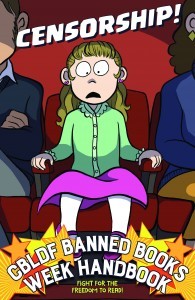 Comic Book Legal Defense Fund
As always, our friends at CBLDF have put together some amazing resources, including their Banned Books Week Handbook.
And finally– Is it time to retire Banned Books Week? That was the question Chris Finan of the American Booksellers for Free Expression posed in a great column back in July. Though the number of formal challenges to books is down, that doesn't mean the fight against censorship has been won.