BANNED BOOKS WEEK
Banned Books Week is an annual event celebrating the freedom to read. It was launched in 1982 in response to a sudden surge in challenges to books in schools, bookstores, and libraries. Banned Books Week highlights the value of free and open access to information. It brings together the entire book community — librarians, booksellers, publishers, journalists, teachers, and readers of all types — in celebrating and defending the right to read during Banned Books Week and beyond.
Da'Taeveyon Daniels, a 16-year-old student from Texas and a Student Advocates for Speech (SAS) participant, a national program administered by the National Coalition Against Censorship's (NCAC) Youth Free Expression Program, will serve as the Youth Honorary Chair for Banned Books Week in 2023. Daniels leads two SAS Clubs in Texas and is a vocal advocate for student rights and intellectual freedom. He was recently recognized for activism during a Texas House floor speech. Additionally, Daniels is a member of the NCAC Advisory Council and is an avid reader who firmly believes in the freedom to choose books without fear of censorship or suppression by those who seek to regulate the right of individuals to express themselves.
The NCAC is a proud Banned Books Week Coalition and Unite Against Book Bans member.
The below page offers several resources to assist with efforts to fight for the freedom to read and to celebrate Banned Books Week.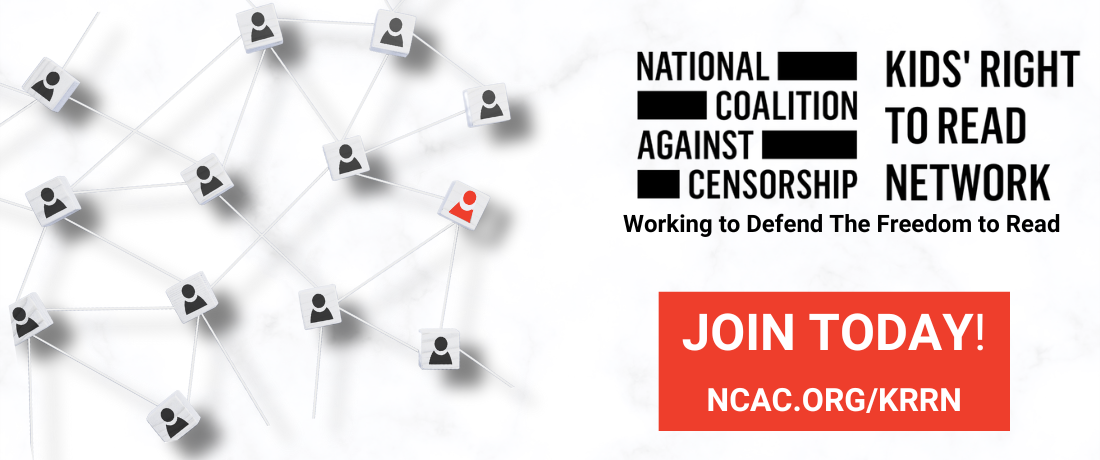 Oppose Removing Books from Schools
Most Challenged Books of 2022
FIGHT BACK AGAINST BOOK BANS!
In response to the emergence of nationwide political groups organizing to remove books from library shelves, NCAC has created the Kids' Right to Read Network (KRRN).  KRRN is a NATIONAL NETWORK of freedom to read affiliates located in communities across the United States.  Affiliates are ACTIVISTS fighting back against the removal of books from libraries AT THE LOCAL LEVEL.
Kids' Right to Read Network will provide access to authors, legal support, written and digital resources, and best practices, to establish a standard "playbook" for work by local affiliates to FIGHT BOOK BANNING.