NFL quarterback Colin Kaepernick sparked controversy by kneeling during the pregame playing of the national anthem in order to protest police shootings of African-Americans. His protest sparked something of a movement; many professional and student-athletes have followed his example in protests of their own.
Like other forms of political speech, kneeling during the national anthem and sitting during the Pledge of Allegiance are protected by the First Amendment.
K-12 SCHOOLS
Protest is political speech in action; it encourages civic engagement and healthy debate on controversial issues. The first two Supreme Court decisions on student free speech rights — West Virginia v. Barnette (1943) and Tinker v. Des Moines (1969) — concerned student protesters. 
Students have a constitutional right to participate in peaceful and non-disruptive protests during the school day. The First Amendment prohibits public officials from disciplining or retaliating against students for their protest, unless they substantially disrupt class or school-sponsored events.
In West Virginia v. Barnette (1943), the Supreme Court ruled that compulsory flag salutes violate the First Amendment because they are tantamount to forcing students to declare a belief.
PUBLIC UNIVERSITIES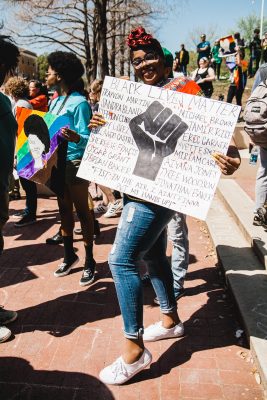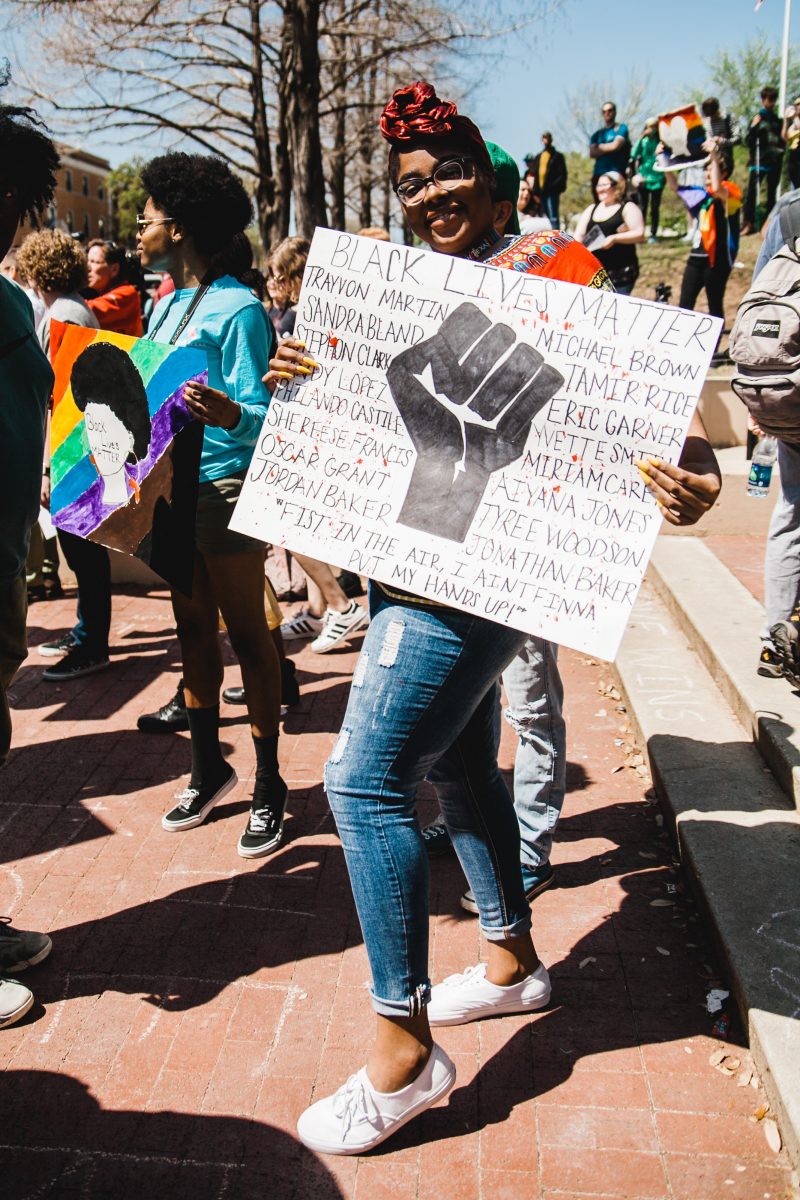 Free expression is vital to the mission of a university. As the "quintessential marketplace of ideas" colleges value academic freedom as key in the search for truth and knowledge. 
Yet, despite strong First Amendment protections and academic freedom principles, university protesters are often subject to suppression and retaliation. 
Even when peaceful and intended to elicit reasoned debate on campuses, some public officials and college administrators have opposed political protests and tried to penalize student organizers for their speech.
CIVIL DISOBEDIENCE
Sometimes, protesters' primary objective is to disrupt the status quo and call attention to unjust social rules by breaking them. Protesters who engage in this style of protest – also called civil disobedience — often understand and accept that the consequences of their actions are necessary and worthwhile for the sake of their greater political goal.  
Schools are permitted to punish students for breaking codes of conduct as part of their protest but the First Amendment prevents schools from heightening punishments or adding more severe punishments in response to the political viewpoints expressed.
For example, students who choose to stage walkouts or blockades may be disciplined for missing class but their punishment may not exceed the usual sanction simply because they chose to protest. 
THE RIGHT TO REMAIN SEATED
Just as the First Amendment protects your right to speak, it protects your right to express your beliefs by remaining silent. The Supreme Court's ruling in Barnette applies to any activity that conveys the personal endorsement of a political message or ideological viewpoint. Public officials cannot force students to stand for the Pledge or National Anthem, nor can they punish them for staying seated.
No matter your reasons — police brutality, unjust wars, or even an objection to the flag's colors — you have the right to sit in protest, as long as you do not disrupt the Pledge or Anthem recital for others.
KNEELING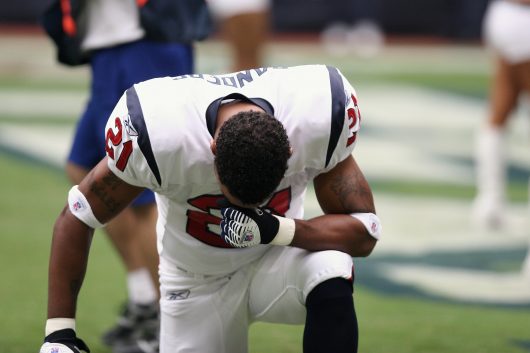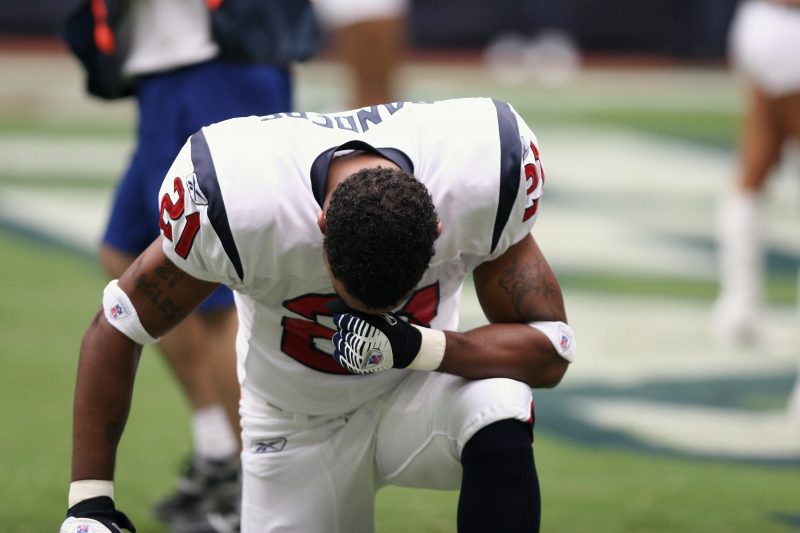 In 2016, NFL quarterback Colin Kaepernick sparked controversy by kneeling during the pregame playing of the national anthem in protest of police shootings of unarmed African-Americans. His protest sparked a movement and many athletes have since followed his example with protests of their own. These actions have drawn national attention to the issue of racialized police violence and garnered more public support for the Black Lives Matter movement.
Students around the country have also joined the movement. In response, some schools impermissibly attempt to prevent students from kneeling, which they decry as "anti-police."
COUNTER PROTESTS
Counter protests can be an effective strategy for public advocacy and opposing ideas one disagrees with. When well executed, counter protests can draw public attention away from the primary protesters and reframe their narrative from a different perspective. 
However, without restraint and a commitment to peace, counter protests can easily turn into disruptive and violent clashes. Violence and threats are not First Amendment-protected. Organizers should strongly emphasize nonviolence and refrain from harassing or threatening opposing groups. Maintain a clear buffer zone between your group and the opposition. Take photos or video of the protests to document your peaceful responses to any confrontations.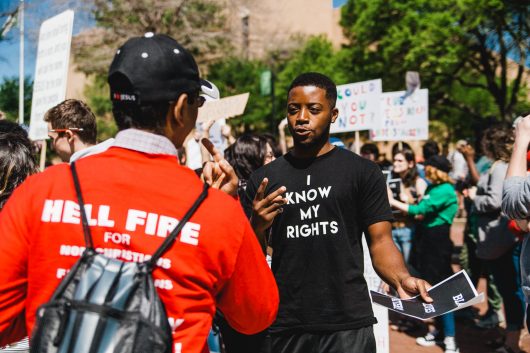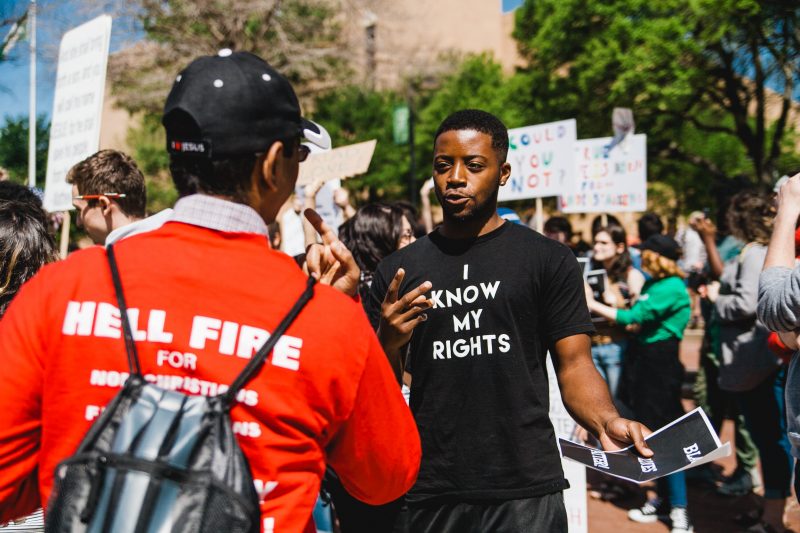 Counter protests: When a small group of Nation Street Preacher demonstrators gathered to condemn the LGBTQ community in Denton, Texas, a larger group of University of North Texas students rallied to counter their homophobic and transphobic messages with music, dancing, and pro-equality chants. (March 29, 2018)
Timeline of Protest Cases Reported to YFEP
The Youth Free Expression Program supports young activists whose political expression rights are suppressed.  The following is a record of cases reported to us since 2016. Some entries include links to the letters NCAC sent, which can be used to guide discussions on similar cases.  
If you are a student activist, we encourage you to use this resource and our Be Heard! Protest Guide to assert your rights.  
And always contact us for help if you are punished for your peaceful protest.
2016
August 30

An African-American student at

Eisenhower High School

in Chicago reported that his teacher tried to physically pull him out of his chair when he sat during the Pledge of Allegiance. The principal defended the student's right to protest, and the teacher was suspended.

September 9

A football player in

Worcester, Massachusetts,

knelt during the national anthem to promote Black Lives Matter. He was later suspended for one day. His suspension was

ultimately repealed

by his school district.

September 15

A teacher in

Lake County, California,

lowered the participation grade of a Native American student who sat during the Pledge of Allegiance. The student reported she had been sitting in protest for years and had never encountered a problem before. NCAC defended the student and advised the District Superintendent to educate all district employees on their First Amendment obligations. The student accepted an offer to transfer to another class. 

September 14

A principal in

Collier County, Florida

required students to stand during the national anthem. The District later called the incident a misunderstanding and asserted that the principal was only disciplining students who were disrupting the anthem by laughing and joking. The following week, the District adopted a new policy that requires student-athletes who wish to kneel during the national anthem to obtain parental permission to do so.

NCAC sent a letter to the District

opposing the policy.

September 14

A coach yelled at a fifth-grader for remaining seated during the Pledge and sent her to the principal's office. According to the student, the principal phoned her mother and called the student "disgusting." Pearland Independent School District (Texas)

issued a statement

in response, affirming her right to sit during the Pledge.

September 16

Orange County Public Schools (Florida)

reversed a short-lived policy that required students to obtain parental permission to kneel during the national anthem at sporting events. It issued a statement clarifying that students do not need parental permission to protest.

September 20

The

South Jersey Times

Editorial Board defended the protests of student-athletes across New Jersey. It was noted that private Catholic schools in the Diocese of Camden had informed football players that they will be suspended from the team if they do not stand for the national anthem.

September 20

Belmont University

(Tennessee) expelled a student who made social media posts that referred to kneeling football players as "piece of shit niggers" who needed "a bullet in their head." Belmont is a private university and is legally entitled to punish students for constitutionally protected speech.

September 23

After hearing about a planned protest, officials at

Eastern Michigan University

kept the football team and band off the field during the national anthem. The University claimed it was concerned about the safety of "everyone involved."

September 24

Three football players at the University of Nebraska knelt during the national anthem. Nebraska Governor Pete Ricketts called their actions "disgraceful" and "disrespectful." He later

agreed to meet

with one of the athletes to discuss the protest.

September 27

After high school football players in Jefferson Parish, Louisiana knelt in protest during the national anthem, police officers

announced

that they would not honor their commitment to work volunteer shifts at the school. According to the sheriff, the officers believed the students were expressing "anti-police sentiments."

September 27

An eight-year-old student in Midland, Texas, was allegedly

sent home from school

for kneeling during the Pledge of Allegiance. The student says he kneeled as "justice for black people getting murdered."

September 30

A student at Bartlett Yancey High School in North Carolina was

sent to the assistant principal's office

for remaining seated during the Pledge of Allegiance. The student later wrote a Facebook post claiming she was "very respectful," and the district superintendent said the assistant principal simply sent the student back to class after asking her to explain her reasons for declining to stand.

September 30

The Scotch Plains-Fanwood Board of Education (New Jersey)

proposed a policy

that requires all students to salute the flag and recite the Pledge of Allegiance. Although the policy exempts conscientious objectors and children of foreign diplomats, it requires them to "show full respect to the flag while the pledge is being given."

September 30

Cheerleaders at Cornell High School in western Pennsylvania

knelt during the national anthem

while World War II veterans presented the flag. The backlash led to hundreds of angry, threatening emails and phone calls to the local school district, which opted to reschedule the school's homecoming game and forbid students, alumni, and members of the public from attending; only the parents of football players may attend.

October 1

Some band members at

East Carolina University

knelt while playing the national anthem. Other members refused to play the anthem at all. University administrators said future protests of this sort "will not be tolerated" because of the "unique privilege and responsibility" of band members. An ESPN Radio affiliate announced that it

would not broadcast

an upcoming game.

October 1

Protestors at

Texas Christian University

were booed for remaining seated during the national anthem. The protestors have met with the university's chancellor and plan to publicly release a list of demands.

October 2

Local media

reported

that police are investigating death threats made against a Massachusetts high school football player who knelt during the national anthem before a September 23 game. On September 26, another student reportedly threatened to "lynch" the player and use him for "target practice."

November 6

The women's basketball team at the

University of Arkansas

kneeled during the national anthem, prompting backlash from Republican legislators who threatened to cut the University's budget. The students

eventually announced they would no longer conduct

the protest and would instead try to engage the community about the issues.

December 2

According to local media, a student

was forced

to write an extra essay after he sat during the Pledge of Allegiance. The school district stated that the teacher violated policy.
2017
June 2

Represented by the ACLU, the mother of an 8-year-old boy at

Fuqua Elementary School

in Terre Haute, Indiana, filed a federal lawsuit alleging her son was forced to recite the Pledge of Allegiance.  According to the lawsuit, the then-first grader remained seated and quiet rather than recite the pledge, but was removed from the classroom and escorted to the school principal's office, where he was forced to recite it.

July 29

North Carolina became the first state to pass free speech legislation based on the proposals of the

Goldwater Institute

, the prominent libertarian think tank. The

Restore/Preserve Campus Free Speech

bill had overwhelming support in the Senate. NCAC and many other free speech advocates

opposed

the legislation, as it broadens legislative control over classroom instruction creating more opportunities to oversee and potentially restrict speech. The bill also introduced new measures to regulate speech, creating redundancies in the system for addressing university issues.

September 29

Emboldened by

Trump's criticism

of NFL players kneeling protests, the Superintendent of Bossier Parish school district in

Benton, Louisiana

issued the statement to over 30 schools in his district requiring all students to stand "in a show of respect" during the anthem's recital.  Following the district-wide statement on "proper national anthem decorum," Benton's Parkway High School Principal wrote to student athletes and parents threatening any student who failed to comply with reduced playing time and ultimately, dismissal from the team.

A church-based football program at

Victory and Praise Christian Academy

in Texas banned players from protesting during the national anthem.  Two Texas students persisted in exercising their right to protest, kneeling during the anthem recital at the next game. They explained their intent was not to disrespect, but to draw attention to incidents of

police brutality and racial injustice

. Still, immediately after their protest, their coach (a former Marine and pastor) kicked them off the team.

October 5

The school board for

Stuart Public Schools

in Pittsburg County, Oklahoma unanimously passed a policy requiring "all students, student-athletes and spectators" to stand during the playing of the national anthem at school-sponsored events, "without any gestures of demonstration or protest."
2018
March 14

National School Walk-out and March for Our Lives

In 2018, a month after the Stoneman Douglas High School shooting, the National School Walkout, a series of protests, including walkouts, was organized by students. Many students were punished for their involvement in these demonstrations. 

However, punishment isn't considered a violation of students' free speech in most cases. Schools are permitted to punish students to the same degree they would punish them for missing class on any other occasion. ACLU Nevada among others had reports of schools threatening excessive punishment. 

April 26 

Arizona

passed a bill

modeled after the Goldwater Institute's policy proposals as North Carolina did in July 2017. Many other states including Texas, California, Illinois, and Michigan had similar bills under consideration.
2019
February 4

A sixth grade student in Polk County Florida

was arrested

 after refusing to recite the pledge of allegiance. A substitute teacher interrogated him about why he was not reciting the pledge and the student explained that he believes that the pledge is representative of racism. The substitute continued to question him about it, then called the school's administrative offices. The student was arrested by a school resource officer. The school claimed that they arrested him because he was disruptive not because he refused to recite the pledge. The state attorney, Brian Haas, later said that his office would not prosecute despite the police's claims that he had made threatening statements.

NCAC

joined many civil liberties groups in offering criticisms and reminding the school of their students' rights.

March 2

 

Trump announced that he planned to issue an executive order to

guarantee free speech at colleges and universities

. In order to ensure compliance with the policy the administration would take away federal funding from any school that didn't protect all students' viewpoints.

March 11

U.S. Representative Francis Rooney (Florida)

introduced

HR 1672, "Free Right to Expression in Education Act (

FREE ACT

)." This act puts a stop to free speech zones at public colleges and universities. Free speech zones initially sound like something that promotes free speech, but the very existence of a zone where one can speak freely meaning that there is another zone where you are not at liberty to speak. 

March 21

Trump signed his

executive order

to hold colleges accountable for protecting free speech.

Many pointed out that this policy does nothing more than require that colleges follow requirements that have long been in place.

April 2

Two students who protested the presence of United States Customs and Border Protection officers at an event on their campus, The University of Arizona, faced criminal charges. The two students were

charged

with interfering with peaceful conduct and threats and intimidation.