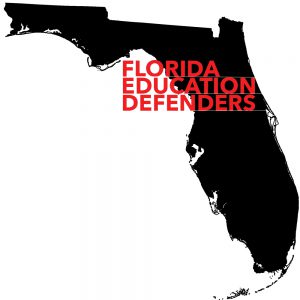 The Florida Education Defenders are a group of organizations working together to fight book censorship in Florida schools.
The Problem
HB 989, signed into law by Governor Rick Scott on June 26, 2017, allows any resident of a Florida county to "challenge the use or adoption of instructional materials" used in public schools and requires that each school district appoint a private hearing officer to oversee the review of challenged books.
How does HB 989 threaten free speech in schools?
While it is not yet clear how the bill will be implemented, it is likely to encourage an increase in challenges to instructional materials and give more power to special interest groups that want to shape the curriculum to fit a specific political or ideological agenda.
How can Florida Education Defenders help?
Florida Education Defenders offer guidance, support and resources for those who support the rights of Florida students to read, learn and express themselves freely.
How we can limit the negative effects of this bill on students:
Track book challenges in the press and through confidential reports
Share resources on book adoption and challenges, including guidance for defending science texts
Provide guidance to teachers confronting challenges
Support administrators with policy guidance and best practices for reviewing instructional materials
Mobilize the Florida education community to advocate for policy and legislative reforms
How can you help?
Do you believe that young people in Florida should be able to read freely? Do you think decisions about instructional materials should be based on educational factors, not subjective opinions?
Here's how you can help prevent book censorship in Florida:
Report a book challenge *We will never share your name or information without your permission. This form is confidential.*
Become a hearing officer (links coming soon)
Share one of our petitions or start your own!
Use #FLEdDefend on social media to build awareness of school censorship issues
Report a challenge
Member organizations
National Coalition Against Censorship
Florida Conference of Historians
National Council of Teachers of English