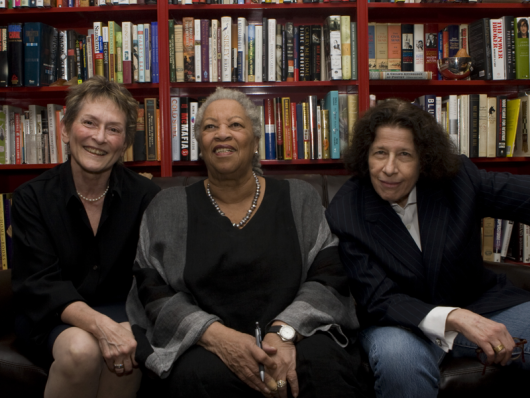 Joan Bertin (Executive Director of the National Coalition Against Censorship), Toni Morrison, and Fran Lebowitz
"A Conversation with Toni Morrison" Launches NCAC's New Free Speech Leadership Council
The Free Speech Leadership Council gathered together for the first time on June 3, 2009 to take part in "A Conversation with Toni Morrison."  Jane Friedman, Chair of the Council, hosted the event in her Manhattan home.
The Leadership Council's inaugural event featured two of the most fitting and auspicious guests–both champions of free speech.  Nobel laureate Toni Morrison and author Fran Lebowitz discussed censorship and the power of literature with an audience of about 50 free speech advocates.
Toni Morrison's novels are frequent targets of censorship, and she is editor of HarperStudio's recently-released Burn This Book. In her remarks, Morrison drew from her introduction to this collection of essays on the power of the word.  "Writers," she says, "are dangers to authoritarianism.  To erase or hide their art is to take away not only what makes people wise, but also what makes us human."
NCAC board member and author Judy Blume shared a moment with Fran Lebowitz when they realized that, at a young age, each had faced censorious librarians when attempting to check out a John O'Hara book.  Fran Lebowitz then quipped, "Librarians censor books. That's like a prohibitionist being a bartender."
This is the first in a developing series of Leadership Council events. The Free Speech Leadership Council is a group of intellectual, cultural, legal, and business leaders committed to the defense of free expression.  For more information, or to join the council, please visit this page or contact Larry Horne at 212-807-6222, ext.17 or [email protected]
Read other reports of the event here:
See videos of Toni Morrison, Fran Lebowitz, and Judy Blume speaking about the power of books, who censors, and their first contact with restricted books. Watch the videos here.