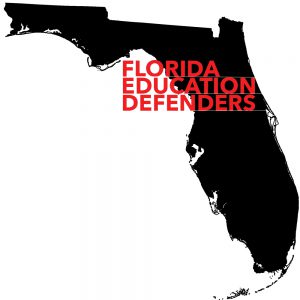 The Florida Education Defenders are a group of organizations working together to fight book censorship in Florida schools.
There's a textbook controversy brewing in Florida. A small group of parents known as the Florida Citizens Alliance alleges Florida schools are indoctrinating children with liberal bias and "unbalanced" science.
Backed by the Tea Party and gun merchants, the FLCA has targeted texts that are critical of the Trump administration as "blatantly biased" and alleges Florida schools are brainwashing students to oppose the Second Amendment.
While small, FLCA is growing and their spread of misinformation is gaining momentum. Now, FLCA has teamed up with the misnomered group Truth in Textbooks to train hundreds of ideologically driven textbook challengers.
Our Response
Florida Education Defenders offer guidance, support and resources for those who support the rights of Florida students to read, learn and express themselves freely.
We work together to:
Track book challenges (with support from the data aggregation platform InformUs)
Share resources with administrators on book adoption and challenges
Counsel educators confronting challenges, including guidance for defending science texts
Mobilize the Florida education community to advocate for policy and legislative reforms
How You Can Help
Do you believe that young people in Florida should be able to read freely? Do you think decisions about instructional materials should be based on pedagogical factors, not subjective opinion?
Here's how you can help prevent book censorship in Florida:
We treat all reports confidentially and will never share your personal information without permission.
Resources

The Florida Education Defenders are a partnership of free speech and education organizations that defends against textbook censorship in Florida schools. Together, we pool resources to provide better guidance to Florida educators and parents in responding to controversies over learning materials.  To join our alliance, contact abena@ncac.org.