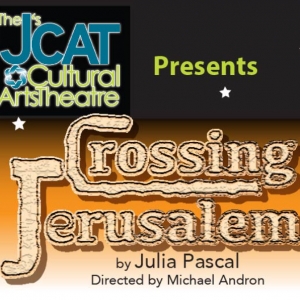 The National Coalition Against Censorship (NCAC), joined by dozens of artists, dramatists and theater advocates, released a statement criticizing the Michael-Ann Russell Jewish Community Center (JCC)'s decision to cancel a production of Julia Pascal's Crossing Jerusalem midway through its run, after complaints that it was "inappropriate and troublesome."
Crossing Jerusalem opened on February 10 at the center's Cultural Arts Theater (J-CAT) in North Miami Beach, Florida. The play is a family drama set in Jerusalem during the 2002 intifada. Understanding the work's potentially controversial nature, the theater set up "talk back" discussions after the performances. But critics of the play, which claimed it presented a "false paradigm of the Arab-Israeli conflict," pressed for the show to be canceled. On February 16, JCC President & CEO Gary Bomzer canceled the remaining performances, explaining that this was in order to "avoid any further pain and to engage in rigorous, vibrant conversation."
The NCAC statement calls the decision a betrayal of free expression that undermines the Center's commitment to "rigorous, vibrant conversation." The group urges the JCC to re-schedule the performances.
"Work set in a context of political tension is often controversial, but that shouldn't mean that such work should be avoided. On the contrary, it is precisely this kind of work, which generates some of the most needed and relevant conversations within a community," said Svetlana Mintcheva, NCAC's director of programs. "The JCC is betraying its very mission by succumbing to censorious demands and stifling open debate."
The statement was endorsed by the Dramatists Legal Defense Fund and the Arts Integrity Initiative, along with prominent artistic directors like Ari Roth (Founding Artistic Director of Washington DC's Mosaic Theater Company) and a number of playwrights—including Joshua Ford, Larry Kunofsky, Christine Evans, Karen Zacarias, Motti Lerner and Wendy Graf.
The full statement appears below (click here for full-screen view). Those who wish to add their formal endorsement can do so by emailing [email protected] .
The full list of endorsers is as follows:
David Ben-Arie, actor, composer, playwright, sound designer (Sound designer for Crossing Jerusalem)
Sara Brookner, Association for Jewish Theatre member-at-large and dramaturg
Christopher Buchanan, independent NYC [laywright
David Y. Chack, Producing Artistic Director of ShPIeL-Performing Identity Chicago and Professor at the Theatre School at DePaul University
Stacie Chaiken, writer-performer-educator, Los Angeles
Elaine Clayton, artist and author, Westport, CT
Carl C. Cole, Commissioner Emeritus, DC Commission on the Arts & Humanities
David Copelin, playwright / dramaturg / Dramatists Guild member
Cynthia DeShola Coleman, activist and CEO of the Timothy Dawkins-El Project
Edward Einhorn, Artistic Director, Untitled Theater Company No. 61
Gordon Edelstein, Artistic Director, Long Wharf Theatre
Henrik Eger, Ph.D., editor, www.DramaAroundTheGlobe.com
Christine Evans, playwright and Assistant Professor, Georgetown University
Chris Finan, American Booksellers for Free Expression
Rebecca Joy Fletcher, playwright, performer, cantor and Jewish educator (Chicago)
David A. Goldenberg, documentary filmmaker, Rhode Island
David Ira Goldstein, Artistic Director, Arizona Theatre Company
Wendy Graf, playwright/DGA member
Anna Hayman, Managing Director, CultureHub
Michelle Hensley, Artistic Director, Ten Thousand Things Theater, Minneapolis, MN
Jamil Khoury, Founding Artistic Director, Silk Road Rising, Chicago
Larry Kunofsky, playwright
Joshua Ford, playwright, Dramatist Guild, Association for Jewish Theatre member
Mira Hirsch, Past President, Association for Jewish Theatre
Motti Lerner, playwright
Jennifer Mendenhall, former artist in residence, Theatre J, DCJCC, actor
Lisa Mount, consultant, perform, producer, Georgia
Adrienne Nelson, actor/dialect coach/teaching artist, Washington, DC
Jenny Paul, actor/producer, producer of "Crossing Jerusalem" North American Premiere
Sinai Peter, Visiting Professor, American University, Independent Director, Haifa Israel; former Artistic Director, Haifa Municipal Theatre, Israel
Gail Prensky, Executive Director, The Jüdische Kulturbund Project
Tom Prewitt, Artistic and Executive Director, WSC Avant Bard
Ari Roth, Founding Artistic Director, Mosaic Theater Company of DC
Linnea Sage, actor in the original U.S. premiere of Crossing Jerusalem
Aaron Mack Schloff, DG member
James Sherman, playwright/DGA member
C Denby Swanson, playwright
David Winitsky, Artistic Director, Jewish Plays Project
Laura Zam, independent playwright/performer, Washington, DC
Karen Zacarias, playwright, Dramatist Guild member, Washington, DC
[scribd id=300167048 key=key-MpWsD0f3KVTjHCKTfEO1 mode=scroll]