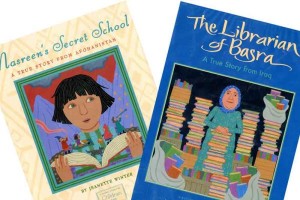 Some Florida parents are calling for a ban on two children's books from the public school curriculum over concerns that the books are promoting Islam or presenting a critical view of war and U.S. foreign policy.
The controversy started with Facebook posts criticizing The Librarian of Basra and Nasreen's Secret School, two acclaimed works by Jeanette Winter that are part of the third grade curriculum in Duval County Public Schools. One post urged parents to file complaints with the district: "If we cannot promote praying to God and Jesus Christ in our public schools, how can we promote reading the Koran and praying to Muhammad?"
Today the National Coalition Against Censorship—joined by the American Booksellers Foundation for Free Expression, Association of American Publishers, Comic Book Legal Defense Fund, National Council of Teachers of English , Society of children's Book Writers and Illustrators, and PEN American Center's Children's and Young Adult Book Committee —sent a letter to Duval County Superintendent Dr. Nikolai Vitti and the School Board reminding them of their constitutional duties as public officials and arguing that the books teach some invaluable lessons: The Librarian of Basra tells a powerful true story about preserving books during a time of war and violence, and Nasreen's Secret School is about educating girls in Taliban-controlled Afghanistan.
The letter also explains that the complaints about the books 'promoting' Islam are misguided, pointing out that "learning about different cultures – and different faiths – is a core part of a comprehensive education," one that is embedded in district policy promoting materials that "reflect the contribution of the multiple cultures and ethnicities and recognized in the history of our civilization."
Read the letter below, or click here for a full-screen view [scribd id=273071739 key=key-oExENVynsMyMFGdIlk4Q mode=scroll]