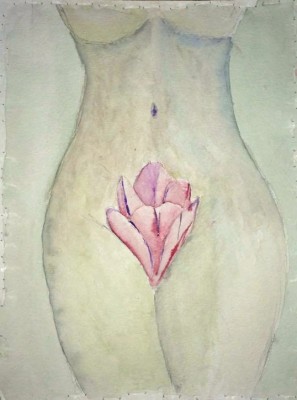 Is this painting 'obscene'?
The National Coalition Against Censorship is protesting the censorship of an artwork by a high school in Palm Coast, Florida. The piece, entitled Rebirth and Enlightenment, was created by Flagler Palm Coast High School senior Patrick Conklin for an art class taught by Edson Beckett. The watercolor depicts a stylized female torso that is nude but for a flower blossom covering the genitalia.
Beckett regularly invites students to show that work temporarily in a display case located in a school hallway alcove. When school administrators became aware that Patrick had submitted Rebirth and Enlightenment, they decided to prohibit the display on the grounds that it would be inappropriate to place the painting in view of children (although the inclusion of Conklin's piece in a Flagler Art League gallery show off-campus was later approved). Principal Dusty Sims told a local news source: "We felt in a community center like a school we didn't want to force someone to show it especially if there's little kids."
The suppression of a student work based on vague and subjective criteria of "appropriateness" is both educationally unsound and legally suspect.
Noting a recent Christmas event that brought community children to the campus, Sims said, "[w]e didn't feel at this point in time that it was right to put it in to the main galleries of our public hallways because of the exposure to young people. We're a community, general audience facility."
As NCAC's letter points out, there is no legal basis for the administration's decision. Although the Flagler County Public School Board Policy Manual does not address the exhibition of student art in public gallery spaces as such, Chapter 9 (in Sections 904 and 905) prohibits the display of "speech or expression which is obscene to minors" on school grounds. However, Conklin's piece is clearly not obscene. As defined by Florida statute, "obscene" materials depict sexual conduct in a patently offensive way and lack serious literary, artistic, political, or scientific value. The Supreme Court has ruled in multiple cases that mere nudity is not obscene and enjoys full constitutional protection.
The suppression of the work is not only constitutionally suspect, the letter argues, but educationally unsound:
Not only have nudes been a central subject of art from ancient times, but figure drawing is a staple of art education. Trying to teach art while excluding the human body is hardly possible – and displaying student art, having it seen and critiqued by others, is part of the educational process. Treating the work of a young artist as somehow shameful and refusing to display it puts a chill on his expression and impermissibly discriminates against subject-matter.
NCAC's letter closes by urging school officials to reconsider their decision and find a possibility to display the work. NCAC also strongly recommends and offers to assist in the development of a district policy on the use of school gallery space that would welcome community input while fully protecting student rights of expression.
Read the full letter below; click here for a full-screen version.
[scribd id=295662748 key=key-xJ5yd38ZepeANBxjSNB3 mode=scroll]