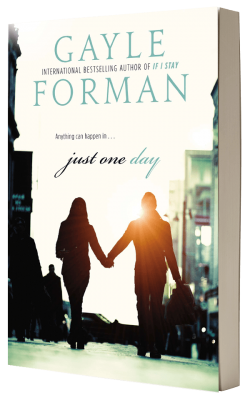 VICTORY! On December 3, Rosemount-Apple Valley-Eagan Public School's reconsideration review committee voted 7-4 to keep the book in middle school and high school libraries.
The parents of a sixth-grader in Minnesota were so upset by the contents of one young adult novel that they're seeking to have it removed from four libraries in the Rosemount-Apple Valley-Eagan Public School district. But a December 1 letter from a coalition of free speech and freedom to read advocates urges the district to retain the book, citing constitutional principles and the district's own policies.
The book in question is Just One Day by Gayle Forman, which tells the story of a teenage protagonist who spends one romantic day in Paris with a mysterious actor. The complaint is that the book "covers adult themes" that "should not be provided by the school." The district formed a review committee, and it will discuss its findings and vote on the matter on December 3.
As the letter from the National Coalition Against Censorship's Kids' Right to Read Project—signed by the American Booksellers for Free Expression, Comic Book Legal Defense Fund, Association of American Publishers, Society of Children's Book Writers and Illustrators, National Council of Teachers of English and the Children's and Young Adult Book Committee of PEN American Center— points out: "Removing the book from the library in spite of its clearly recognized value, and in response to subjective complaints about its content, would raise serious First Amendment concerns."
It goes on:
Some parents may prefer to keep their children from reading about the topics that Just One Day tackles. Others may appreciate a book like Just One Day because it can create avenues for adults and children to talk about specific topics.
In addition to fundamental First Amendment concerns, removing Just One Day would violate the district's own policies:
District Policy 603.2.2.3P, "The Freedom to Read," states that "It is the responsibility of publishers and librarians, as guardians of the people's freedom to read, to contest encroachments upon that freedom by individuals or groups seeking to impose their own standards or tastes upon the community at large."
The coalition letter urges the district to stand up for the freedom to read by keeping this book on the library shelves.
Read the full letter below, or click here for a full-screen view.
[scribd id=291961223 key=key-72SURWZbZ37Yt4YK54OO mode=scroll]