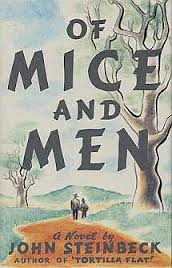 It was a good night for literature.
The Coeur d'Alene School Board decided in a 4-1 vote last night to reject an ad hoc review committee's recommendation to demote Of Mice and Men and instead will keep it in the 9th grade curriculum for whole class instruction.
The vote came after a month of public comment, in which community members, teachers, and the NCAC's Kids' Right to Read coalition spoke out – mostly in favor of the book. But for the lone dissenting vote, Board members looked objectively, and with an eye toward the educational value of John Steinbeck's classic novel as a whole – not to mention the discretion of its district's educators – when making their decision.
According to Mike Nelson, the district's curriculum director, the book has never received a formal complaint in the 12 years since it's been included in the curriculum, and no student has opted out of reading it. Trustee Dave Eubanks, who served as a non-voting member of the ad hoc committee, thought that was reason enough to call it a moot point and reject the committee's recommendation.
It seems the district needs to clarify what, exactly, they want from this ad hoc committee, which will re-form over the summer to begin reviewing another 80 books. Some are even asking for guidelines and boundaries on "language."
Our thought? Keep looking at the whole, rather than the sum of its parts. What offends one person will not offend all, and remember that with an opt-out policy, there always is "parental choice."