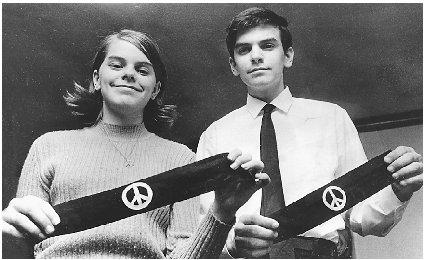 Logan Middle School student Jared Marcum took a trip to the courthouse after a confrontation over his t-shirt last week. The t-shirt boasted the National Rifle Association's logo and the words "Know Your Rights" over an image of a hunting rifle.
The student was approached by a teacher in the middle of the school day who apparently asked him to turn the shirt inside out or take it off. The t-shirt does not appear to violate the Logan County School's dress code.  When Marcum didn't comply, he was arrested for "disrupting an educational process and obstructing an officer."
"What they're doing is trying to take away my rights, to freedom of speech and the second amendment," Marcum told news reporters.
Coincidentally, today, free speech legend Mary Beth Tinker — of Tinker v. Des Moines fame — launched a crowd-sourcing campaign for her Tinker Tour.
In 1965, at age 13, Mary Beth  was suspended for wearing a black armband in protest of the Vietnam war. She and other students were told they couldn't return to school until they took off their armbands. They filed a lawsuit and removed their bands, but continued to protest by wearing black clothing for the remainder of the school year. The Tinker decision was huge, as it established that students do not "shed their constitutional rights to freedom of speech or expression at the schoolhouse gate."
Through the Tinker Tour, Mary Beth will travel the U.S. talking to students and raising awareness about free speech and youth rights. With your help, perhaps the tour will make a stop in West Virginia–she and Jared Marcum will surely have something to talk about.