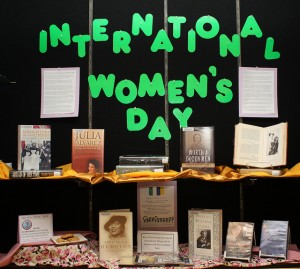 Today is the 100th Anniversary of International Women's Day! Censorship is about who has permission to speak about what in public. Women, both as speakers and subject, have often been marginalized or stricken from the public sphere, and so we'd like to provide some choice selections from NCAC's work on censorship as it specifically impacts women.
Censorship Hurts Women

"We are feminists who believe the First Amendment is good for women. Women's freedom, equality, and safety are best served by the broadest availability of sexual speech — that means Our Bodies, Ourselves, Debbie Does Dallas, lesbian strip shows, the novels of Judy Blume, and Andrea Dworkin's antiporn polemic Intercourse.
To be sexually free, women must be able to discover and legitimate their own sexualities through representing and seeing them represented in a vast variety of ways. We don't want the U.S. government, or Andrea Dworkin, telling us which representations are "good" and which ones "degrade" us.
To be equal, women must take control of their bodies, aided by information about contraception, abortion, and AIDS that today, as in the past, is so often attacked.
To be safe from sexual violence, we must be able to publicly describe it in every obscene detail.
We know that when the censors are unleashed, they censor us. Jesse Helms' attacks on the NEA targeted lesbians, gay men, and feminists making art about sex and sexual violence. Since Canada's Supreme Court upheld censorship of pornography, using MacKinnon and Dworkin's arguments, there have been prosecutions and convictions against lesbian and gay expression, and Canada Customs has seized much lesbian literature at the border. They also seized two books by Andrea Dworkin.
We anticensorship feminists hate misogynist representations of women — whether in advertising, sitcoms, or pornography. But we don't all agree on what's misogynist."
When Female Speakers Are Targeted For Censorship

Teacher censors copy of Jeanette Wall's The Glass Castle:
V-Day Articles Censored at Grover Cleveland High School:
Students at Grover Cleveland High School decided to use the Valentine's Day issue of their school paper to talk about VDay, a national movement to raise awareness about violence toward women. The article featured a diagram of a vagina and accompanying articles about the 10th anniversary of VDay and nation-wide performances of The Vagaina Monologues. Concerned about this content, the principal confiscated all copies of the paper.
Female Hip-Hop artist Sarah Jones censored for lyrics routinely used by male rappers:
Of all the odd "indecency" rulings that the Federal Communications Commission has issued over the years, the silencing of Sarah Jones's rap poem Your Revolution is the most deeply suggestive of the discriminatory nature of American censorship. Your Revolution was essentially banned from the airwaves for nearly two years before the FCC, in February 2003, reversed itself under pressure from a lawsuit by Jones.

Your Revolution is an explicitly feminist critique of misogyny in popular music. It starts: "Your revolution will not happen between these thighs," and continues: "The real revolution ain't about booty size/The Versaces you buys/Or the Lexus you drives "— Admittedly, the rap has sexual content, but it's precisely Jones's imaginative use of racy language that makes Your Revolution relevant, particularly for young African American women.
Videos by internationally exhibited artist Amy Greenfield removed by YouTube because their subject is the female body.
Censorship, Female Sexual Identity and Reproductive Rights

"Sexual freedom and freedom for sexually explicit expression are essential aspects of human freedom." –Nadine Strossen, professor, New York Law School and president, ACLU
On this day we celebrate those who have fought for women's rights to speak and be heard, and recognize the ongoing battle to defend those rights!
Thanks to Amanda Levendowski for compiling this research.