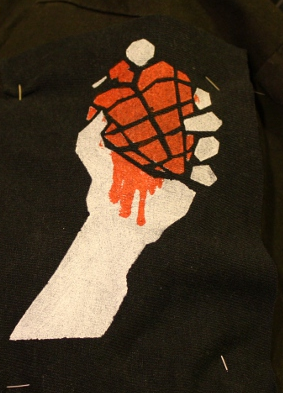 The Lamplighters drama club at Enfield High School in Connecticut was planning on performing a version of the musical American Idiot this spring. But the choice of that show, based on the hit album by the Bay Area punk band Green Day, apparently didn't sit well with some parents, and the show has been canceled.
Howard Sherman of the New School's Arts Integrity Initiative has put together what we know about the story so far. On January 17, Lamplighters' faculty director Nate Ferreira sent out an email explaining that the school had worked with the publisher on a modified version of the show; by "removing profanity and the more adult scenarios in the original Broadway production," they could perform a show that would be more suitable for a high school audience But "a very small number of extremely vocal people" complained nonetheless, and Ferreira and the school principal decided to change course and perform a different show this spring.
Sherman has not been able to get much of a response from school officials, he was able to get a response from Green Day's Billie Joe Armstrong, who had this to say:
it would be a shame if these high schoolers were shut down over some of the content that may be challenging for some of the audience. but the bigger issue is censorship. this production tackles issues in a post 9/11 world and I believe the kids should be heard. and most of all be creative in telling a story about our history.

I hope you reconsider and allow them to create an amazing night of theater!
Sherman echoed that sentiment: "Perhaps there's still room for dialogue, and Enfield High can still give its students the opportunity to take on challenging, modern work."
There's still time for the school to do the right thing.
*UPDATE–1/26/16
This story has generated an enormous amount of media attention since it first came to light. And as Howard Sherman has explained in a follow-up, there are some questions about how closely club director Nate Ferreira had been working with the publishers of 'American Idiot' on an edited version of the show.
Ferreira has also stated that the decision to not perform 'American Idiot' was his: "Due to the fact that some of our club families were not comfortable with their kids being involved in the show, it was my decision to perform a different show." He had told a local newspaper that it was "a decision that the principal and I arrived at together because there were some kids in the group whose parents didn't want them involved."
Whatever the case, Ferreira says that he had "begun to feel that the material itself would be better served if I were to stage American Idiot _unedited_ with another local organization, and encourage the families who still wanted to do the show to become involved with it there."
So perhaps the show will go on after all– just not at school.